Sales of both medical marijuana and adult legal marijuana are soaring. Total marijuana sales in 2014 were less than $5 billion. A story in USAToday notes the number is expected to approach $23 billion in 2020 (1) due to decriminalization and the increasing recognition of its therapeutic utility within the medical community. Twenty-nine states plus the District of Columbia have medical or legalized marijuana laws in place (2). Millions of Americans use marijuana to provide symptom relief from dozens of indication, including cancer, glaucoma, Parkinson's, multiple sclerosis, epilepsy, seizures, wasting syndrome, Crohn's disease, PTSD, and chronic pain.
There are three cannabinoid products approved in the U.S. These products hold the same therapeutic potential as marijuana, yet IMS Health estimates sales totaled only $133 million in 2014. Sales are restrained by several well-known limitations, including poor oral bioavailability, erratic pharmacokinetics, inconvenient administration, short duration of action, poor tolerability, and psychoactive side effects.
California-based Vitality Biopharma, Inc. (VBIO) has a proprietary glycosylation technology for producing cannabinoid prodrugs. The technology was crafted by the company's research with Stevia and natural sweeteners in 2015; and to date, Vitality has produced more than 25 novel cannaboside molecules; several composition of matter patent applications are pending. Below is an introduction to Vitality Bio, a look at the company's pipeline and the medical marijuana industry, and why investors should put this name on their radar.
Medical Marijuana – Not Just Smoke

The medical benefits of marijuana, or more specifically, cannabinoids, are real. I'm an ardent user of the NCBI's PubMed website. I'm on it every day. There is no shortage of literature supporting the medical benefits of cannabinoids. Hundreds of peer-reviewed publications exist concluding there is a therapeutic benefit in the treatment of mental health disorders like PTSD (3), movement disorders like Parkinson's (4), Huntington's (5), and restless leg (6), or in other neurological conditions like epilepsy (7), multiple sclerosis (8), and traumatic brain injury (9). However, the most common uses of synthetic cannabinoids or medical marijuana are in glaucoma (10) and in chronic and neuropathic pain (11). In fact, so accepted is the antiemetic effect of medical marijuana that it is now common practice for many terminally ill cancer patients (12, 13).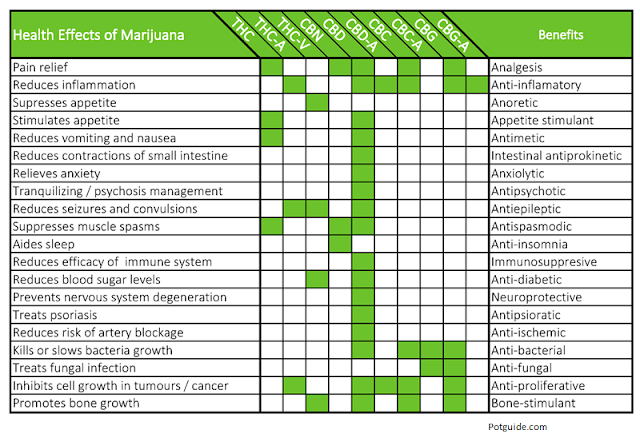 Cannabis sativa is a mixture of a number of compounds, including tetrahydrocannabinol (THC) and cannabidiol (CBD). Studies show that THC activates pathways in the central nervous system which work to block pain signals from being sent to the brain. Manzanares et al notes, "The discovery of cannabinoid receptors, their endogenous ligands, and the machinery for the synthesis, transport, and degradation of these retrograde messengers, has equipped us with neurochemical tools for novel drug design. Agonist-activated cannabinoid receptors, modulate nociceptive thresholds, inhibit release of pro-inflammatory molecules, and display synergistic effects with other systems that influence analgesia, especially the endogenous opioid system. Cannabinoid receptor agonists have shown therapeutic value against inflammatory and neuropathic pains, conditions that are often refractory to therapy" (14). For example, cannabis has been shown to be especially effective against neuropathic pain refractory to other medications (15). Cannabinoids may also be helpful in helping patients with insomnia (16) and inflammatory bowel disease (17).
Cancer patients find significant utility in the use of cannabis, not only because of the antiemetic effects but also because THC may have broad antitumor activity (18). Two synthetic cannabinoid products, AbbVie's Marinol® (dronabinol) and Valeant/Meda's Cesamet® (nabilone) are approved in the U.S. by the FDA as antiemetic agents for cancer patients undergoing chemotherapy.
In the U.S., 29 states and Washington, DC allow for the use of medical or recreational marijuana in adults. The increasing number of states allowing either medical or recreational marijuana use is leading to a boom in sales growth for the industry. ArcView Market Research forecasts legal use of marijuana will hit $22.8 billion in 2020. Marijuana Business Daily projects the full economic impact of marijuana decriminalization, which includes sales of both marijuana and peripherals, could hit $44 billion by 2020 (19).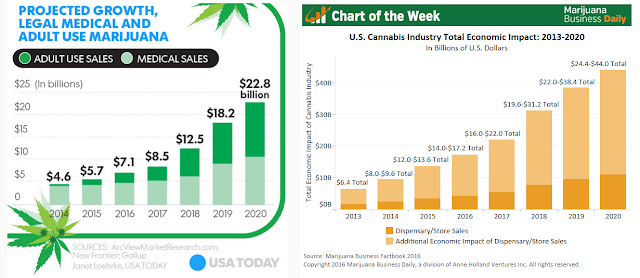 Marijuana Stocks – Why You Should Care
The growth of the marijuana industry warrants investor attention. Marijuana is no longer illegal in the majority of states in the U.S. and a recent poll by Quinnipiac University found that 89% of responders supported the use of medical marijuana; 54% support full legalization in the U.S. (20). If ArcView Market Research is correct and the marijuana industry hits nearly $23 billion in sales in 2020, this would be one of the largest and fastest-growing segments of the U.S. pharmaceutical industry. Marijuana stocks are also hot right now. According to the website, MarijuanaIndex.com, a basket of 23 North American stocks in the marijuana industry is up 181% over the past twelve months.
The website lists 198 stocks that are involved in the marijuana economy, which includes some mid-size biotech players like GW Pharmaceuticals Plc (GWPH) and Insys Therapeutics Inc. (INSY), to dozens of nano-cap OTC stocks (21). I believe the true value for investors is in biopharma research and finding potential U.S. FDA approvable indications for cannabinoid compounds, although producers and marijuana-tech companies also offer exciting areas for growth (22).
Many marijuana companies are penny-biotech stocks that have no real future or ability to compete. It's an area where I have been previously hesitant to spend a lot of time because of the speculative nature of most of these companies. To be a true player, the company must have a proprietary technology and intellectual property, an experienced management team, and the necessary financial resources to advance internal candidates.
That being said, unicorns do exist! Nasdaq-listed GW Pharmaceuticals is perhaps the most widely known and advanced company focusing on cannabinoids. The company has one approved product on the market called Sativex® (nabiximols) for spasticity associated with multiple sclerosis, and in March 2016, management announced positive Phase 3 data on Epidiolex® (cannabidiol) for the treatment of Dravet syndrome, a rare and debilitating type of epilepsy for which there are currently no treatments approved in the U.S. In the Phase 3 study, Epidiolex achieved the primary endpoint of a significant reduction in convulsive seizures assessed over the entire treatment period compared with placebo (p=0.01) (23). GW Pharma's stock is up 260% since that release. Epidiolex has both Orphan Drug Designation and Fast Track Designation from the U.S. Food and Drug Administration (FDA). Other late-stage indications for Epidiolex include Lennox-Gastaut syndrome (LGS), Tuberous Sclerosis Complex (TSC) and Infantile Spasms (IS).
In Search Of Unicorns – Vitality Biopharma (VBIO)
Vitality Bio has developed a new class of cannabinoid prodrugs, known as cannabosides, to overcome the limitations of raw Cannabis sativa or synthetic cannabinoids. Cannabosides are "prodrugs", which means that they are medications or compounds that, after administration, are converted within the body into pharmacologically active drugs. Cannabosides are more stable and soluble than cannabinoids, which results in less risk of non-psychotropic cannabidiol (CBD) being converted to psychotropic THC or otherwise degraded in the acidic stomach environment. Vitality Bio creates the cannaboside prodrugs through enzymatic glycosylation, a process perfected in 2015 when the company focused on enzymatic taste modification technologies originally developed for
Stevia sweeteners.


Management believes that glycosylation of cannabinoids can improve product bioavailability, eliminate unwanted side effects in pediatric epilepsy patients, and be useful in any medical treatment where oral CBD is administered at a high dose. Creating prodrugs is a commercially validated strategy to improve pharmacokinetics; and, because the reference drug already has independent verification of its safety and efficacy, the prodrug may be approved rapidly through demonstrating similar bioavailability or bioequivalence. At the same time, a prodrug can be far more marketable due to its ability to eliminate unwanted side effects or undesirable commercial aspects. A classic prodrug example is Aspirin (acetylsalicylic acid), a synthetic prodrug of salicylic acid. As of 2015, there were approximately 15 prodrugs that had been classified as blockbusters, defined as having annual sales in excess of $1 billion.
Vitality's cannaboside prodrugs offer several advantages over raw Cannabis sativa or synthetic cannabinoids, including the convenience of oral administration, targeted delivery, and fewer side effects. The goal of the company's research is to ultimately provide a compelling oral cannabinoid pharmaceutical that physicians will be eager to prescribe and patients will prefer.
For example, many synthetic cannabinoids are poorly soluble. GW Pharma's two leading products, Epidiolex® and Sativex® are solutions. Sativex is a mixture of CBD/THC solubilized with 50% v/v alcohol (ethanol) into an oral spray. Although the alcohol volume is small, it can still cause problems for alcoholics, pregnant women, and young children. Oral lesions may form in users of alcohol-based cannabis sprays, coupled with reported stinging, bad taste, and dry mouth. Sativex also contains propylene glycol, with may cause further irritation and dry mouth. The product must be stored in the refrigerator and has a shelf life of only 42 days. An oral capsule cannaboside prodrug developed by Vitality Bio may alleviate many of these problems.
Other companies, such as Zynerba Pharmaceuticals, are developing cannabinoid transdermal patches. Transdermal delivery routes can in some cases lead to hives/skin irritation, and typically deliver relatively small drug dosages. Oral cannaboside capsules that avoid this problem could enable far more convenient delivery of cannabinoids in a form that is fast-acting and that works at a high dose for maximal effect.



Additionally, oral delivery is also far more advantageous when targeting GI-related indications, such as inflammatory bowel disease (i.e. Crohn's disease). Glycoside prodrugs can selectively target different tissues, including the colon through oral delivery and the brain through intravenous delivery. Independent studies have demonstrated reliable and improved (AUC) targeting to the colon upon oral delivery of GBD glycoside prodrugs vs. active CBD.

– The Vitality Bio Pipeline – 
 
Through its glycosylation technology, Vitality Bio has produced more than 25 novel cannabosides and has patent applications pending that include composition of matter claims for prodrugs of cannabinoids that have been studied extensively in clinical trials worldwide, including THC, CBD, and cannabidivarin (CBDV). In total, the company's IP portfolio includes 79 patent claims and almost 200 individual compounds, including novel glycoside prodrugs of the most abundant phytocannabinoids, THC and CBD, as well as a variety of other phytocannabinoids and endocannabinoids (24).
The company aims to develop and receive approval for these proprietary molecules as pharmaceuticals using a low-risk regulatory strategy. A key part of the company's strategy is to take advantage of the more efficient FDA review and approval process that is available for prodrugs, which reduces the need for large and expensive clinical trials. This expedited regulatory process is available for cannabosides because in the U.S. and internationally there have already been many independent clinical studies completed using the reference cannabinoid drugs management is studying.
For example, Vitality may benefit from results of cannabinoid clinical studies that were initiated and paid for by independent clinical investigators, including studies that were performed or are currently still in process for many large commercial indications such as epilepsy, neuropathic pain, multiple sclerosis, inflammatory bowel disease, schizophrenia, and Huntington's disease. Management's goal is to create improved prodrug formulations of these cannabinoids that ultimately deliver a highly differentiated product both from medical marijuana and from the reference cannabinoid drugs.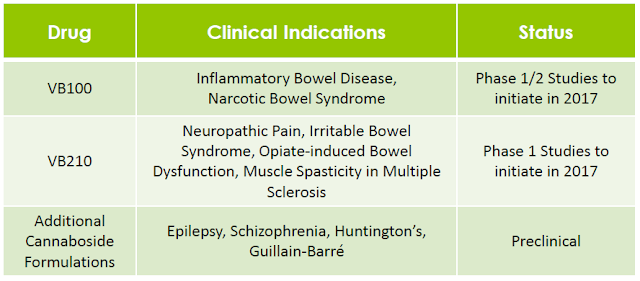 Vitality is initially developing its cannaboside pharmaceutical products for symptomatic relief of pain, cramping, and muscle spasticity that is the result of serious neurological and inflammatory conditions, such as inflammatory bowel disease (IBD) and neuropathic pain. There is extensive clinical evidence supporting the potential efficacy of cannabinoids for the treatment of each of these indications, including through clinical trials conducted by independent investigators. Management's plan is to complete preclinical studies necessary in order to launch multiple clinical trials before the end of 2017 that evaluate the clinical pharmacokinetics of drug formulations containing cannabosides, as well as their potential for providing symptomatic relief of abdominal pain and cramping alone or in combination with other approved medications.
VB100 – Inflammatory Bowel Disease

Cannabis is used for the treatment of GI disorders such as abdominal pain and diarrhea. The endocannabinoid system (i.e. endogenous circulating cannabinoids) performs protective activities in the GI tract and presents a promising therapeutic target against various GI conditions such as IBD (especially Crohn's disease), irritable bowel syndrome, and secretion and motility-related disorders (25). Preliminary clinical studies with cannabis for the treatment of IBD has been encouraging.For example, a paper by Naftali T. et al. published in Clinical Gastroenterology and Hepatology in 2013 highlighted results from an exploratory study in 21 patients with active Crohn's disease (CDAI > 200) who were refractory to steroids, immunomodulators, or anti-tumor necrosis factor-α agents. Patients were assigned randomly to groups given cannabis, twice daily, in the form of cigarettes containing 115 mg of THC or placebo containing cannabis flowers from which the THC had been extracted. Disease activity and laboratory tests were assessed during eight weeks of treatment and two weeks thereafter.
Results show complete remission (CDAI score, < 150) was achieved by 5 of 11 subjects in the cannabis group (45%) versus only 1 of 10 in the placebo group (10%; p = .43). A clinical response (decrease in CDAI score of >100) was observed in 10 of 11 subjects in the cannabis group (90%; from 330 ± 105 to 152 ± 109) and 4 of 10 in the placebo group (40%; from 373 ± 94 to 306 ± 143; p = .028). Three patients in the cannabis group were weaned from steroid dependency. Subjects receiving cannabis reported improved appetite and sleep, with no significant side effects (26).


Separate research published in Digestion in 2012 by Lahat A. et al., examined 13 subjects with long-standing IBD who were prescribed cannabis as part of their treatment regimen. After three months of treatment, researchers saw significant improvement in quality of life scores, including an improvement in general health perception (p = 0.001), social functioning (p = 0.0002), ability to work (p = 0.0005), physical pain (p = 0.004) and depression (p = 0.007). A schematic scale of health perception showed an improved score from 4.1 ± 1.43 to 7 ± 1.42 (p = 0.0002). Patients had a weight gain of 4.3 ± 2 kg during treatment (range 2-8; p = 0.0002) and an average rise in BMI of 1.4 ± 0.61 (range 0.8-2.7; p = 0.002). The average Harvey-Bradshaw index was reduced from 11.36 ± 3.17 to 5.72 ± 2.68 (p = 0.001) (27).

Inflammatory Bowel Disease (IBD), which includes ulcerative colitis and Crohn's disease, is a chronic, lifelong condition with serious quality of life implications. According to the Crohn's & Colitis Foundation of America (CCFA), IBD affects as many as 1.4 million Americans, most of which are diagnosed before the age of 30. The primary characteristic of the disease is inflammation of the gastrointestinal (GI) tract, which manifests in symptoms that include persistent diarrhea, abdominal pain, cramping, rectal bleeding, and fatigue.The global market for drugs treating IBD is predicted by Visiongain to reach $9.6 billion in annual revenues in 2017. The main types of drugs used commonly in IBD include anti-inflammatory drugs that provide symptomatic relief and antibiotics. Drugs used in IBD come in different forms and may be administered in different ways, including orally, through topical treatments, and also through injectables or infusions. The primary drugs used in the treatment of IBD include aminosalicylic acids, corticosteroids, immunosuppressants such as methotrexate, cyclosporine, and tacrolimus, and newer biologics such as infliximab (Remicade®) or adalimumab (Humira®) that target TNF-alpha.
The encouraging thing about the two studies noted above is that in the Naftali T. et al., 2013, study, subjects refractory to existing medications saw a benefit. In the Lahat A. et al., 2012, study, subjects saw a benefit adding cannabis to existing medications. These studies, along with dozens of other independent studies, lead Vitality management to focus VB100 development on IBD (see July PR).
The company is currently doing formulation work (see October PR) and wrapping up the preclinical toxicology and safety studies. Preclinical efficacy studies are also underway with a goal to file the U.S. investigational new drug (IND) application during the second half of 2017. Once cleared, Vitality Bio will conduct a Phase 1a clinical trial with VB100 in healthy subjects followed by a Phase 1b clinical trial in subjects with IBD in late 2017. The primary endpoint or the Phase 1b study will be symptom relief, along with other key secondary clinical measures. A Phase 2 trial is planned for 2018.
This is a tremendous opportunity for the company. If cannabis products can capture 25% of the entire IBD market, sales will approval $2.5 billion in 2017. If Vitality can capture 10% of the cannabis-IBD market, then peak sales for VB100 would be $250 million.
In November 2016, Vitality announced that it will expand its focus with VB100 to the treatment of narcotic bowel syndrome (NBS), a severe form of opiate-induced abdominal pain (see November PR). NBS is a rapidly growing problem in the U.S. due to the nation's serious opioid epidemic. Over 250 million opioid prescriptions dispensed annually in the U.S. (28); that equates to 80% of the global opioid market. Research published in Neurogastroenterology & Motility in 2010 found that nearly all non-cancer chronic opioid users suffer some form of GI-related dysfunction, with constipation (47%) and abdominal pain (57%) the most common adverse events (29).
Tuteja AK., et al. found that NBS was present in 6.4% of the subjects, which is consistent with recent finding from the International Foundation for Functional Gastrointestinal Disorders noting 5-10% of all opioid patients will develop NBS (30). This equates to between 100,000 and 200,000 individuals in the U.S. right now with NBS and there are no FDA-approved medications specifically for NBS, representing a potential multi-hundred million dollar opportunity for VB100. An important advantage of VB100 include is its oral mode of administration that specifically targets the gut and reduces the potential for psychotic / psychotropic side-effects associated with medical marijuana or systemic cannabinoids.
The opportunity for VB100 in NBS is quite intriguing because of the potential triple mechanism of action (i.e. as an analgesic, antiemetic, and anti-inflammatory). The analgesic effects of cannabinoids are well documented, which could lead to lower opioid dosing when used in combination with opioids or the potential to wean patients off opioids suffering from chronic pain. A small study (n=30) conducted by researchers out of Harvard and published in the Journal of Pain in 2009 found that dronabinol (THC) provided relief to non-cancer patients with chronic pain when used as an adjuvant therapy to chronic opioids (31).

VB210 – Chronic Pain & CNS Indications 

Use of cannabis for the treatment of neurological conditions has become increasingly common. The therapeutic value of CBD, either given alone or in combination with THC, may be due to it providing neuroprotection through multiple mechanisms of action at the molecular level. CBD offers a combination of anti-glutamatergic, anti-inflammatory, and anti-oxidant effects that may offer utility in nearly all aspects of neurotoxicity present in neurodegenerative diseases. And importantly, the therapeutic properties of CBD do not appear to be exerted by the activation of key known molecular targets of the endocannabinoid systems such as the CB1 or CB2 receptors. In fact, CBD has negligible activity at these cannabinoid receptors, and so is likely to exert effects through other mechanisms.
Inflammation is a common denominator among the diverse list of neurodegenerative diseases and has been implicated as a critical mechanism that is responsible for the progressive nature of neurodegeneration. There are few compounds that exert both anti-inflammatory and neuroprotective properties. This dual mechanism is particularly attractive for many neurological conditions. In this context, medical marijuana has attracted special interest, with a specific focus on CBD because it lacks the unwanted psychotropic effect of THC (32).
Dozens of clinical programs have attempted to qualify the mechanism of action. For example, work published in the British Journal of Pharmacology in 2011 by Kozela E. et al., evaluated the effects of CBD on microglial activation in a mouse model of multiple sclerosis. The authors found that treatment with CBD during disease onset ameliorated the severity of the clinical signs of encephalomyelitis. The effect was accompanied by diminished axonal damage and inflammation as well as microglial activation and T-cell recruitment in the spinal cord of MOG-injected mice. Moreover, CBD inhibited MOG-induced T-cell proliferation in vitro at both low and high concentrations of the myelin antigen and the effect was not mediated via the known CB1 and CB2 receptors (33).


A separate study by researchers in Spain in 2012 found that CBD protects oligodendrocyte progenitor cells (OPCs) from oxidative stress by decreasing the production of reactive oxygen species. CBD also protects OPCs from apoptosis via mechanisms that do not involve CB1, CB2, TRPV1 or PPARγ receptors. Mecha M. et al. concluded that tunicamycin-induced OPC death was attenuated by CBD, suggesting a role of endoplasmic reticulum (ER) stress in the mode of action of CBD (34).
GW Pharma's Sativex® (nabiximols) is an approved medication outside the U.S. for the treatment of moderate to severe spasticity due to multiple sclerosis (MS). It is an oral mucosal spray derived a near 1:1 mixture of CBD and THC. As noted above, the solution is 50% alcohol. Phase 3 data with Sativex are published in the European Journal of Neurology (Novotna A. et al., 2011). Results show subjects on Sativex saw marked improvement in spasticity scores (reduction in spasticity) vs. placebo (35). This is excellent proof-of-concept data for Vitality Bio's VB210.


MS is a condition that afflicts 2.5 million people worldwide, approximately 450,000 in the U.S. (source; U.S. CDC), and involves degenerative changes characterized by inflammation and demyelination of the central nervous system (CNS). Most people with MS experience relapses and remissions of their symptoms, particularly early in the course of the disease, and symptoms are typically associated with areas of CNS inflammation. MS is a degenerative disease that typically worsens over time. Symptoms include impaired mobility, mood and cognitive changes, pain and sensory problems, fatigue, visual disturbances, and therefore there is a significant impact on quality of life for patients and their families.
According to consulting firm GlobalData, the market for multiple sclerosis therapeutics was $17.2 billion in 2014. There are over a dozen disease-modifying therapies approved in the U.S., which slow the inflammatory attack of the disease but also often have dangerous side effects. None have been able to reverse disability or promote functional recovery, and certainly, none of these medications is a cure. MS drugs are also incredibly expensive, costing between $50,000 and $65,000 per year (30). Copaxone (glatiramer acetate injection) is a leading MS drug first approved in 1996. Sales peaked at $3.4 billion in 2014.
Beyond muscle spasticity in MS, Vitality Bio believes that VB210 may hold utility in other chronic conditions such as neuropathic pain, irritable bowel syndrome, and fibromyalgia. Management plans to test VB210 alone and in combination with approved spasticity or CNS drugs. The company anticipates filing the U.S. IND application late 2017. Similar to VB100, the oral mode of administration and finely tuned PK is what is expected to separate VB210 from medical marijuana and systemic cannabinoids because Vitality Bio can specifically target the gut while mitigating risks of psychotropic side effects.
Conclusion

The medical marijuana and cannabis industry in the U.S. is booming. What was hype and speculation only a few years ago is now an investable market with tremendous upside. At the center of the industry is biopharma R&D being pioneered by companies with proprietary technology and the intellectual property to protect potentially exciting medical breakthroughs. The initial focus on cannabis for antiemetic, analgesic, anti-inflammatory, and neuroregenerative properties holds the most promise in my view.Vitality Bio is currently conducting preclinical studies in anticipation of filing IND applications in 2017 for glycosylated cannabinoid products called cannabosides. The most advanced candidate is VB100, a cannaboside prodrug under development for the acute management of inflammatory bowel disease. A second candidate, VB210, is under development for chronic conditions that affect both the GI and CNS. I will perform more detailed analyses on both these candidates in the coming months. The key differentiating factor to the two pipeline candidates is the oral mode of administration, which specifically targets the gut and reduces the potential for psychotic / psychotropic side-effects associated with medical marijuana or systemic cannabinoids.
In the meantime, the company is backed by experienced pharmaceutical entrepreneurs with significant financing capabilities (36), and management has a sound strategy for creating shareholder value. This is a name that should warrant investor attention.