Can-Fite Takes Aim At Celgene's Otezla
On June 7, 2016, Can-Fite BioPharma Ltd. (CANF) announced it had submitted a protocol design to the European Medicines Agency (EMA) for a Phase 3 trial and Registration Plan for piclidenoson (CF101) in the treatment of psoriasis. The filing of the protocol design follows a pre-submission meeting held between the company and the EMA earlier in the year. In the planned Phase 3 trial, Can-Fite will study piclidenoson's efficacy and safety in treating psoriasis, head-to-head, versus Celgene's Otezla® (apremilast). In 2015, Celgene reported global Otezla® sales of $472 million. By 2022, Evaluatepharma believes Otezla® will generate $2.9 billion in sales.
Taking on biotech behemoth Celgene head-to-head is a ballsy move by Can-Fite. I love it! Finally, a biopharma company is willing to run a Phase 3 trial that means something. Otezla® sales are soaring at Celgene, and given the similar mechanism of action among the two drugs, this is the type of real data that patients, physicians, and payers want to see.
Which drug is better? We will have to wait for the results of the Phase 3 trial to be certain, but the best place to start today is by comparing Can-Fite's previous results with the published data for Otezla®.
The Phase 3 Trial
The planned Phase 3 trial is a randomized, double-blind, placebo- and active-controlled study that will investigate the efficacy and safety of daily piclidenoson administered orally compared to Otezla® (apremilast) in approximately 370 patients with moderate-to-severe plaque psoriasis. The study is designed to have four arms:
1) Piclidenoson 2 mg : 2) Piclidenoson 3 mg : 3) Otezla 30 mg : 4) placebo<
Randomization will be in a 3:3:3:2 ratio. Medication will be taken orally twice daily for 32 weeks in a double-blinded fashion. The primary endpoint will be the proportion of subjects who achieve a Psoriasis Area and Severity Index (PASI) score response of ≥75% (PASI-75) at week 32. Can-Fite expects to conduct the study "globally," which will include sites in the U.S. The trial is anticipated to begin later in 2016.
Otezla vs. CF101, Let's Look At The Data
Otezla® is off to a very strong start. The drug was approved in March 2014, and sales in 2015 already totaled $472 million. Sales in the first quarter 2016 totaled $196 million, up 226% year-over-year. The slide below shows the quarterly run-rate for Otezla® over the past five quarters. It's a beautiful trajectory.
Celgene has been picking up sizable market share with Otezla® for the treatment of moderate-to-severe plaque psoriasis, likely due to the drugs decent efficacy, benign safety profile, and oral delivery. The marketing message for Otezla® is that it treats psoriasis differently. It's not an injection or cream; it's a simple oral pill with a novel mechanism of action. That is resonating well with physicians and patients, as evidenced by the strong market share gains for the drug since launch.
The Otezla® Phase 3 data has been both published and presented. Celgene ran two parallel Phase 3 programs, ESTEEM 1 and ESTEEM 2. Results from ESTEEM 1 were published in the Journal of the American Academy of Dermatology in July 2015 (1). The data show that at week 16, significantly more patients taking apremilast achieved 75% or greater reduction from baseline Psoriasis Area and Severity Index score (PASI-75) versus placebo (33.1% vs. 5.3%; P < 0.0001; primary endpoint). Results from ESTEEM 2 were published in the British Journal of Dermatology in December 2015 (2). Results showed that at week 16, significantly more apremilast patients achieved PASI-75 versus placebo (28.8% vs. 5.8%; P < 0.001). Below is a graph presented by investigators from Celgene's Phase 3 ESTEEM 1 trial, presented at the American Academy of Dermatology annual meeting in March 2014 (3). It shows the PASI-75 data for all patients in ESTEEM 1.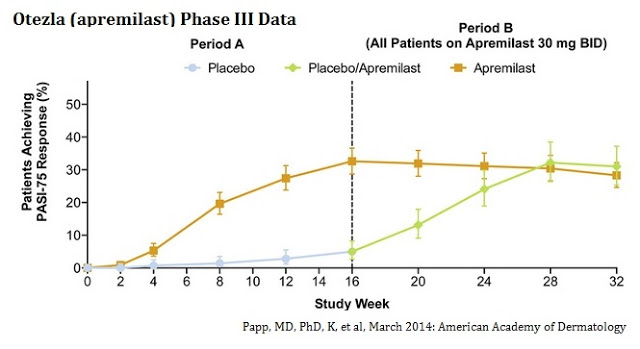 In April 2015, Can-Fite reported further analysis from the company's double-blind, placebo-controlled Phase 2/3 clinical trial with CF101 for the treatment of moderate-to-severe plaque psoriasis (4). The study included 326 patients through 17 clinical centers in the U.S., Europe, and Israel with a duration of 32 weeks. As a reminder, the primary endpoint of this study was PASI-75 after week 12, and CF101 did not meet statistical separation from placebo. However, further analysis of the entire study period revealed that by 32 weeks of treatment with CF101, 33% of the patients achieved PASI-75, and the mean percent of improvement in PASI score was 57%. Results were statistically significant at P < 0.001. Furthermore, the data showed a cumulative and linear improvement during weeks 16 to 32.
The slide below shows the acceleration of response for patients between weeks 16 and 32 taking 2 mg of CF101.
To compare the data directly, I've put together a superimposed chart merging the data from the two separate programs. It shows the efficacy of CF101 reported from the Phase 2/3 clinical program compared directly to the data from the Phase 3 ESTEEM 1 pivotal trial with Otezla® (note: data from ESTEEM 1 was numerically superior to ESTEEM 2, 33.1% vs. 28.8%, at week 16) using PASI-75 response rate.
Otezla® looks to be the superior drug after 16 weeks of therapy, but ultimately plateaus and potentially even loses efficacy by week 32. Conversely,  the PASI-75 response rate for CF101 continues to improve out to week 32. As a reminder, the endpoint for Can-Fite's planned Phase 3 program is PASI-75 at week 32.
I suspect that Can-Fite will analyze other PASI endpoints in its Phase 3 trial. Below are graphs of the PASI-50 and PASI-90 response rate for the CF101 Phase 2/3 data with data reported by Celgene from the ESTEEM 1 superimposed. The PASI-90 data are striking.
Mechanisms of Action
Otezla® is an orally available phosphodieserase-4 (PDE-E) inhibitor. PDE4 is the major enzyme class responsible for the hydrolysis of cyclic adenosine monophosphate (cAMP), an intracellular second messenger that controls a network of pro-inflammatory and anti-inflammatory mediators. PDE4 inhibition results in increases in cAMP levels in immune and non-immune cell types and expression of a network of pro-inflammatory and anti-inflammatory mediators, including decreases in the expression of inducible nitric oxide synthase, TNF-α, and interleukin (IL)-23 and increases IL-10 (5).
CF101 is an orally bioavailable A3 adenosine receptor (A3AR) agonist. The Gi protein-associated A3AR is found to be overexpressed in both inflammatory and cancer cells vs. low expression of the receptor if found in normal cells (6). The mechanism of action of adenosine agonism in inflammatory conditions involves the modulation of the Wnt and the nuclear factor kappa-B (NF-κB) signal transduction pathways, leading to the inhibition of TNF-α, interleukin-6 and -12, macrophage inflammatory proteins and receptor activator of NF-κB ligand (RANKL) (7).
Conclusion
I'm excited to see Can-Fite's Phase 3 trial get underway. Several aspects have me feeling good about the outcome. Importantly, the Phase 2/3 data showed statistically superior PASI-75 results versus placebo starting at week 20 for 2 mg CF101. The planned Phase 3 trial will study 2 mg and a new higher dose of 3 mg CF101 with PASI-75 as the primary endpoint. I think incorporating a higher dose (50% higher) in the Phase 3 trial should help accelerate the response to the drug. I also think beating placebo is a slam-dunk. But no one will care if CF101 is superior to placebo; there are dozens of treatment options available to patients with moderate-to-severe psoriasis and Can-Fite knows that to gain market share post-approval, they are going to have to take it from someone.
The chart above depicting Otezla's market share gains show Celgene is taking share from Enbrel®, Stelara®, and Humira®. Can-Fite believes that CF101 can demonstrate efficacy and safety superior to Otezla®. That's a tall order, but the comparison of the CF101 Phase 2/3 data versus the Otezla® Phase 3 data support this belief, at least with respect to PASI-75 at week 32. Can-Fite has astutely made this the primary endpoint of its planned Phase 3 trial.
Ric Flair says, "To be the man, you gotta beat the man!" Can-Fite just threw down the gauntlet at Celgene's Otezla®.