Vitality Biopharma, Inc. (VBIO) is developing a new class of cannabinoid prodrugs, known as cannabosides, to overcome the limitations of raw Cannabis sativa or synthetic cannabinoids. It is a strategy I believe can create significant value due to the differentiation of cannaboside products from existing cannabinoids available through prescription or over-the-counter means. The strategy also effectively distinguishes Vitality from many small biopharma companies I see developing products with little differentiation from medical or recreational marijuana.
Management is going after a very intriguing orphan drug indication called narcotic bowel syndrome (NBS) that should add intellectual property (IP) protection as well as certain important regulatory advantages for a small company like Vitality. Cannabosides also offer the added protection of being considered new chemical entities (NCE) by the U.S. FDA, which further strengthens the IP position and potential for development and commercial partnerships. IP and the lack of real commercial strategy are perhaps the two biggest drawbacks to investing in the cannabis space; Vitality Bio seems to have both these issues well covered.
Below is a quick look at the company's technology and the market opportunity in NBS.
Cannabosides are "prodrugs", which means that they are medications or compounds that, after administration, are converted within the body into pharmacologically active drugs. Cannabosides are more stable and soluble than cannabinoids, which results in less risk of non-psychotropic cannabidiol (CBD) being converted to psychotropic tetrahydrocannabinol (THC) or otherwise degraded in the acidic stomach environment. Vitality Bio creates the cannaboside prodrugs through enzymatic glycosylation, a process perfected in 2015 when the company focused on enzymatic taste modification technologies originally developed for Stevia sweeteners utilizing the UGT76G1 enzyme from Stevia rebaudiana.

Management believes that glycosylation of cannabinoids can improve product bioavailability, eliminate unwanted side effects (e.g. in pediatric epilepsy patients), and be useful in any medical treatment where oral CBD is administered at a high dose. Creating prodrugs is a commercially validated strategy to improve pharmacokinetics; and, because the reference drug already has independent verification of its safety and efficacy, the prodrug may be approved rapidly through demonstrating similar bioavailability or bioequivalence. At the same time, a prodrug can be far more marketable due to its ability to eliminate unwanted side effects or undesirable commercial aspects. There are also strong IP advantages to prodrugs. A classic prodrug example is Aspirin (acetylsalicylic acid), a synthetic prodrug of salicylic acid. As of 2015, there were approximately 15 prodrugs that had been classified as blockbusters, defined as having annual sales more than $1 billion.
– A Huge Market Opportunity – 

The medical benefits of marijuana, or more specifically, cannabinoids, are real. Hundreds of peer-reviewed publications exist concluding there is a therapeutic benefit in the treatment of mental health disorders like PTSD (1), movement disorders like Parkinson's (2), Huntington's (3), and restless leg (4), or in other neurological conditions like epilepsy (5), multiple sclerosis (6), and traumatic brain injury (7). However, the most common uses of synthetic cannabinoids or medical marijuana are in glaucoma (8) and in chronic and neuropathic pain (9). In fact, so accepted is the antiemetic effect of medical marijuana that it is now common practice for many terminally ill cancer patients (10, 11).


Purified or synthetic cannabinoids obviously have several advantages over raw Cannabis sativa, including purity, consistency of dose, improved tolerability, targeted pharmacokinetics, and safety. Vitality's cannaboside prodrugs take these advantages to the next levels, yielding further improvements in oral administration, delivery, and tolerability. The goal of the company's research is to ultimately provide a compelling oral cannabinoid pharmaceutical that physicians will be eager to prescribe, and patients will prefer.
For example, many synthetic cannabinoids are poorly soluble. GW Pharma's two leading products, Epidiolex® and Sativex® are solutions. Sativex is a mixture of CBD/THC solubilized with 50% v/v alcohol (ethanol) into an oral spray. Although the alcohol volume is small, it can still cause problems for alcoholics, pregnant women, and young children. Oral lesions may form in users of alcohol-based cannabis sprays, coupled with reported stinging, bad taste, and dry mouth. Sativex also contains propylene glycol, with may cause further irritation and dry mouth. The product must be stored in the refrigerator and has a shelf life of only 42 days. An oral capsule cannaboside prodrug developed by Vitality Bio may alleviate many of these problems.
Other companies, such as Zynerba Pharmaceuticals, are developing cannabinoid transdermal patches. Transdermal delivery routes can in some cases lead to hives/skin irritation, and typically deliver relatively small drug dosages. Oral cannaboside capsules that avoid this problem could enable far more convenient delivery of cannabinoids in a form that is fast-acting and that works at a high dose for maximal effect.


Additionally, oral delivery is also far more advantageous when targeting GI-related indications, such as inflammatory bowel disease (IBD) or NBS. Glycoside prodrugs can selectively target different tissues, including the colon through oral delivery and the brain through intravenous delivery. Independent studies have demonstrated reliable and improved (AUC) targeting to the colon upon oral delivery of CBD glycoside prodrugs vs. active CBD.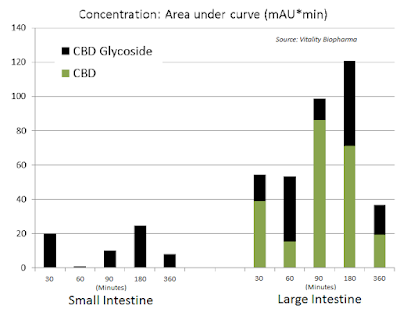 An Astute Strategy
Through its glycosylation technology, Vitality Bio has produced more than 25 novel cannabosides and has patent applications pending that include composition of matter claims for prodrugs of cannabinoids that have been studied extensively in clinical trials worldwide, including THC, CBD, and cannabidivarin (CBDV). In total, the company's IP portfolio includes 79 patent claims and almost 200 individual compounds, including novel glycoside prodrugs of the most abundant phytocannabinoids, THC and CBD, as well as a variety of other phytocannabinoids and endocannabinoids.
The company aims to develop and receive approval for these proprietary molecules as pharmaceuticals using a low-risk regulatory strategy. A key part of the company's strategy is to take advantage of the more efficient FDA review and approval process that is available for prodrugs, which reduces the need for large and expensive clinical trials. This expedited regulatory process is available for cannabosides because in the U.S. and internationally there have already been many independent clinical studies completed using the reference cannabinoid drugs management is currently studying.
– 21st Century Cures Act – A Nice Tailwind For Vitality Bio – 
In December 2016, former President Barack Obama signed into law the 21st Century Cures Act. The Cures Act, which is designed to facilitate FDA approval of new drugs and medical devices, is a major win for the cannabis industry. The Cures Act will enhance current FDA programs and allow for a quicker path for breakthrough pharmaceutical products targeting debilitating diseases with limited alternative treatment options. One such debilitating disease is narcotic bowel syndrome (NBS).
The Cures Act directs the U.S. FDA to make decisions based on the use of "real world evidence" for approval of new indications for FDA-approved drugs. The use of observational studies, patient input, anecdotal data, and other retrospective research greatly reduces the cost and time to market compared to conducting large randomized clinical trials. This should increase the odds of success as the FDA may focus less on objective measures and prohibitively expensive placebo-controlled randomized clinical trials. This is a nice benefit to smaller players like Vitality Bio.
Importantly, there is already overwhelming real-world, observational, and anecdotal evidence of therapeutic effect to cannabinoids that Vitality Bio can use as reference products. The U.S. FDA has approved two synthetic cannabinoid products to date; both are antiemetics. Sales of Marinol® (dronabinol) by AbbVie and Cesamet® (nabilone) by Valeant/Meda tally roughly $200 million. Another product, Sativex® (THC/CBD) is approved in 30 countries outside the U.S, including Canada.
By developing cannabosides prodrugs of products the U.S. FDA has either already approved or seen significant empirical evidence of safety and efficacy, Vitality Bio is expected to benefit from an expedited regulatory pathway. The passing of the 21st Century Cures Act adds a nice tailwind to that already accelerated process. Finally, by focusing on rare and orphan diseases, like NBS, Vitality further hastens the development timeline for its internally developed drug candidates.
Targeting IBD / NBS
Vitality is initially developing its cannaboside pharmaceutical products for symptomatic relief of pain, cramping, and muscle spasticity that is the result of serious inflammatory conditions, such as inflammatory bowel disease (IBD). There is extensive clinical evidence supporting the potential efficacy of cannabinoids for the treatment of IBD, including through clinical trials conducted by independent investigators.
For example, cannabis is used for the treatment of GI disorders such as abdominal pain and diarrhea. The endocannabinoid system (i.e. endogenous circulating cannabinoids) performs protective activities in the GI tract and presents a promising therapeutic target against various GI conditions such as IBD (especially Crohn's disease), irritable bowel syndrome, and secretion and motility-related disorders (12). Preliminary clinical studies with cannabis for the treatment of IBD have been encouraging.
For example, a paper by Naftali T. et al. published in Clinical Gastroenterology and Hepatology in 2013 highlighted results from an exploratory study in 21 patients with active Crohn's disease (CDAI > 200) who were refractory to steroids, immunomodulators, or anti-tumor necrosis factor-α agents. Patients were assigned randomly to groups given cannabis, twice daily, in the form of cigarettes containing 115 mg of THC or a placebo containing cannabis flowers from which the THC had been extracted. Disease activity and laboratory tests were assessed during eight weeks of treatment and two weeks thereafter.
Results show complete remission (CDAI score, < 150) was achieved by 5 of 11 subjects in the cannabis group (45%) versus only 1 of 10 in the placebo group (10%; p = .43). A clinical response (decrease in CDAI score of >100) was observed in 10 of 11 subjects in the cannabis group (90%; from 330 ± 105 to 152 ± 109) and 4 of 10 in the placebo group (40%; from 373 ± 94 to 306 ± 143; p = .028). Three patients in the cannabis group were weaned from steroid dependency. Subjects receiving cannabis reported improved appetite and sleep, with no significant side effects (13).



Separate research published in Digestion in 2012 by Lahat A. et al., examined 13 subjects with long-standing IBD who were prescribed cannabis as part of their treatment regimen. After three months of treatment, researchers saw significant improvement in quality of life scores, including an improvement in general health perception (p = 0.001), social functioning (p = 0.0002), ability to work (p = 0.0005), physical pain (p = 0.004) and depression (p = 0.007). A schematic scale of health perception showed an improved score from 4.1 ± 1.43 to 7 ± 1.42 (p = 0.0002). Patients had a weight gain of 4.3 ± 2 kg during treatment (range 2-8; p = 0.0002) and an average rise in BMI of 1.4 ± 0.61 (range 0.8-2.7; p = 0.002). The average Harvey-Bradshaw index was reduced from 11.36 ± 3.17 to 5.72 ± 2.68 (p = 0.001) (14).
IBD, which includes ulcerative colitis and Crohn's disease, is a chronic, lifelong condition with serious quality of life implications. According to the Crohn's & Colitis Foundation of America (CCFA), IBD affects as many as 1.4 million Americans, most of which are diagnosed before the age of 30. The primary characteristic of the disease is inflammation of the GI tract, which manifests in symptoms that include persistent diarrhea, abdominal pain, cramping, rectal bleeding, and fatigue.
The global market for drugs treating IBD is predicted by Visiongain to reach $9.6 billion in annual revenues in 2017. The main types of drugs used commonly in IBD include anti-inflammatory drugs that provide symptomatic relief and antibiotics. Drugs used in IBD come in different forms and may be administered in different ways, including orally, through topical treatments, and also through injectables or infusions. The primary drugs used in the treatment of IBD include aminosalicylic acids, corticosteroids, immunosuppressants such as methotrexate, cyclosporine, and tacrolimus, and newer biologics such as infliximab (Remicade®) or adalimumab (Humira®) that target TNF-alpha.
The encouraging thing about the two studies noted above is that in the Naftali T. et al., 2013, study, subjects refractory to existing medications saw a benefit. In the Lahat A. et al., 2012, study, subjects saw a benefit adding cannabis to existing medications. These studies, along with dozens of other independent studies, lead Vitality management to focus VB100 development on IBD (see July PR).
The company is currently doing formulation work (see October PR) and wrapping up the preclinical toxicology and safety studies. Preclinical efficacy studies are also underway with a goal to file the U.S. investigational new drug (IND) application during the second half of 2017. Once cleared, Vitality Bio will conduct a Phase 1a clinical trial with VB100 in healthy subjects followed by a Phase 1b clinical trial in subjects with IBD in late 2017. The primary endpoint or the Phase 1b study will be symptom relief, along with other key secondary clinical measures. A Phase 2 trial is planned for 2018.
This is a tremendous opportunity for the company. If cannabis products can capture 25% of the entire IBD market, sales will approach $3.0 billion in 2020. If Vitality can capture 10% of the cannabis-IBD market, then peak sales for VB100 would be $300 million.
In November 2016, Vitality announced that it will expand its focus with VB100 to the treatment of narcotic bowel syndrome (NBS), a severe form of opiate-induced abdominal pain (see November PR). NBS is a rapidly growing problem in the U.S. due to the nation's serious opioid epidemic. Over 250 million opioid prescriptions dispensed annually in the U.S. (15); that equates to 80% of the global opioid market despite the fact that the U.S. makes up less than 5% of the global population!
Research published in Neurogastroenterology & Motility in 2010 found that nearly all non-cancer chronic opioid users suffer some form of GI-related dysfunction, with constipation (47%) and abdominal pain (57%) the most common adverse events (16). Paradoxically hyperalgesia can be a consequence of long-term chronic opiate usage. According to Farmer et al., 2013, "NBS is characterized by chronic or intermittent colicky abdominal pain or discomfort that worsens after the narcotic effects of opiates wear off. Over time, the pain-free periods become shorter in duration despite increasing doses of opiates. Escalating the opiate dosage only worsens the effect on pain sensitivity by further reducing GI secretion and motility" (17). It's a vicious cycle.


Tuteja AK., et al. found that NBS was present in 6.4% of the subjects, which is consistent with a recent finding from the International Foundation for Functional Gastrointestinal Disorders noting 5-10% of all opioid patients will develop NBS (18). This equates to between 100,000 and 200,000 individuals in the U.S. right now with NBS. Unfortunately, it is under-recognized due to lack of knowledge about the long-term effects of narcotics as potentiators of visceral pain and motility disturbances, and difficulties in clinically distinguishing abdominal pain that results from, rather than is benefited by, narcotics (19).
There are no FDA-approved medications specifically for NBS, representing a potential multi-hundred million dollar opportunity for VB100. An important advantage of VB100 include is its oral mode of administration that specifically targets the gut and reduces the potential for psychotic/psychotropic side-effects associated with medical marijuana or systemic cannabinoids.
The opportunity for VB100 in NBS is quite intriguing because of the potential triple mechanism of action (i.e. as an analgesic, antiemetic, and anti-inflammatory). The analgesic effects of cannabinoids are well documented, which could lead to lower opioid dosing when used in combination with opioids or the potential to wean patients off opioids suffering from chronic pain. A small study (n=30) conducted by researchers out of Harvard and published in the Journal of Pain in 2009 found that dronabinol (synthetic THC) provided relief to non-cancer patients with chronic pain when used as an adjuvant therapy to chronic opioids (20).


A systemic review of nearly a dozen independent studies found that the analgesic effects of THC/CBD are modest and generally predictable (21). GW Pharma's Sativex® is approved for use in Canada as an adjunctive analgesic treatment in adult patients with advanced cancer who experience moderate to severe pain during the highest tolerated dose of strong opioid therapy for persistent background pain (22). Health Canada has approved Sativex with conditions, under the Notice of Compliance with Conditions (NOC/c) policy.

Manufacturing Clearance Makes Vitality A Major Cannabis Player
Vitality Biopharma (VBIO) released some very important and positive news in late December 2016 when it received approval from both the U.S. Drug Enforcement Agency (DEA) and the State of California Research Advisory Panel permitting the company to scale up activities at its facilities used for the development of novel cannabinoid pharmaceutical pro-drugs (see December PR). This makes Vitality a true player in the cannabis market, with similar production capabilities to GW Pharma Zynerba Pharma. Keep in mind, GW Pharma has a market value 100x that of Vitality Bio.
Additionally, in-house manufacturing is a clear competitive advantage for Vitality Bio and should prove to be very important when the company engages in talks with potential development and/or commercialization partners in the near future.
Conclusion

The medical marijuana and cannabis industry in the U.S. is booming. What was once hype and speculation only a few years ago is now an investable market with tremendous upside. At the center of the industry is cutting-edge R&D being pioneered by companies with proprietary technology and the intellectual property to protect potentially exciting medical breakthroughs. Recent positive legislative initiatives designed to streamline the FDA approval process for products with significant empirical and real-world evidence of therapeutic effect further strengthens the case for investment.
Vitality Bio is currently conducting preclinical studies in anticipation of filing IND applications in 2017 for glycosylated cannabinoid products called cannabosides. The technology creates a new class of molecules with greatly approved solubility in aqueous solutions. The most advanced candidate is VB100, a cannaboside prodrug under development for the acute management of IBD and NBS. I am particularly intrigued by the opportunity in NBS because of the potential triple mechanism of action of the drug – as an analgesic, as an antiemetic, and as an anti-inflammatory. Additionally, because NBS is an orphan disease indication and there are yet no FDA approved products, Vitality Bio has the potential to benefit from an expedited regulatory pathway.
Finally, the company is backed by experienced pharmaceutical entrepreneurs with significant financing capabilities (23), and management has a sound strategy for creating shareholder value. This is a name that should warrant investor attention.