BrainStorm Cell Therapeutics, Inc. (NASDAQ: BCLI) is biopharmaceutical company developing adult stem cell-based therapies for a variety of neurodegenerative diseases such as amyotrophic lateral sclerosis (ALS), multiple sclerosis (MS), and Parkinson's disease (PD). The company's NurOwn® technology is based on the use of mesenchymal stem cells (MSCs), engineered ex vivo, to express increased amount of neurotrophic factors (NTFs). The company has tested single-dose treatments of NurOwn in ALS patients in two Phase 1/2 clinical trials and most recently in a randomized, double-blind, placebo-controlled Phase 2 clinical trial.
Below is a review of Brainstorm, including a look at the science, the Phase 2 data, and the potential valuation. I think BCLI shares are looking very attractive and have established a position in the stock.
Brief Background on BrainStorm and NurOwn®
BrainStorm's proprietary NurOwn technology uses a novel differentiation protocol such that mesenchymal stem cells (MSCs) are converted into neurotrophic factor-secreting cells (MSC-NTF cells). MSCs are a type of pluripotent adult stem cell that can become many different cell types, including cartilage, bone, and fat. MSCs are located in various tissues throughout the body; for BrainStorm's technology, the cells are harvested from the patient's bone marrow. Following isolation, the cells are cultured ex vivo in a series of specialized growth mediums in order to induce production of NTFs. These MSC-NTF cells are then re-administered to the patient through either intramuscular (IM) or intrathecal (IT) injections, or both.


Neurotrophic factors (NTFs) are a group of small proteins and peptides that support the growth, survival, and differentiation of developing and mature neurons (1). Unfortunately, the transient administration of NTFs is not a feasible treatment option due to their short half-life and limited concentration at target sites. However, cell-based delivery of NTFs could result in sustained delivery and increased therapeutic response. In fact, Brainstorm has been able to demonstrate a marked increase in NTF's in subjects post transplantation (red bars) vs. pre-infusion baseline levels (blue bars).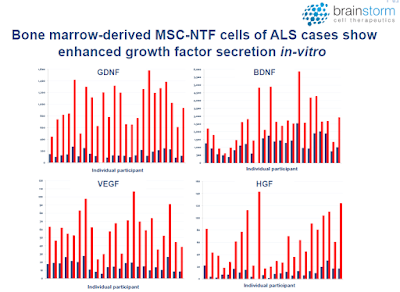 – Clinical Proof-of-Concept – 
 
BrainStorm has previously tested NurOwn as a treatment for ALS in a Phase 1/2 and a Phase 2a open-label clinical trial, as well as a recent Phase 2 randomized, double-blind, placebo-controlled clinical trial (NCT02017912). While safety was the primary outcome for these trials, a secondary outcome measure was performed using the ALS Functional Rating Scale – Revised (ALSFRS-R), which rates 12 symptoms of the disease on a 0-4 point scale, with 48 being the best score and 0 equaling death (2). The route of administration for these trials have a combination of 24 intramuscular (IM) injections into the biceps and triceps and one intrathecal (IT) injection into the cerebrospinal fluid. Dose concentrations ranged between 1 and 2 million cells.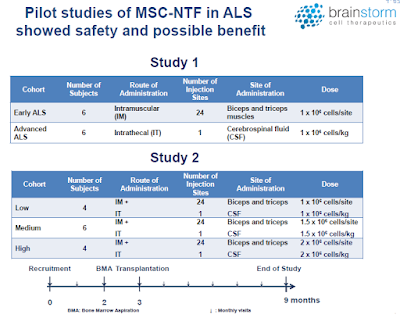 Data from the Phase 1/2 and 2a clinical trials were published in JAMA Neurology in 2016 (3). The most important takeaway from those trials was that treatment with NurOwn slowed progression of the disease when compared to the three months leading up to treatment, as shown in the following figure.
Importantly, treatment with NurOwn appears safe and tolerable. There were no deaths, no treatment-related serious adverse events, and no adverse events that directly lead to study discontinuation. In the company's July 2016 press release, management included a quote from Carlayne E. Jackson, MD, FAAN, Professor of Neurology and Otolaryngology, Chief Medical Officer – UT Medicine San Antonio, University of Texas Health Science Center. Dr. Jackson served as the chair of the Data Safety Monitoring Board for the Phase 2 study. Dr. Jackson stated, "Patients in the Brainstorm study tolerated treatment extremely well and there were no serious adverse events related to therapy. The safety profile certainly provides the opportunity to continue to study this approach to ALS treatment."
– More On The Phase 2 Data –
 
As a reminder, the Phase 2 study investigated the treatment of ALS patients with NurOwn through both intramuscular and intrathecal injections, but only during a single visit at the start of month three. The diagram below shows the trial design – recruitment, bone marrow aspiration, transplantation, and then follow-up evaluation visits. This is important because, after a single treatment with NurOwn, I believe the results are quite impressive.



It's also important to note that patient recruitment took place at three prominent hospitals in the U.S.: Mayo Clinic in Rochester, Minnesota, Massachusetts General Hospital in Boston, MA, and the University of Massachusetts in Worcester, MA. A total of 48 patients were randomized, 36 to NurOwn and 12 to placebo. Keep in mind, Mayo Clinic is currently ranked as the No. 1 hospital in the U.S. for Neurology by the U.S. News & World Report. MGH is ranked No. 4. This was no fly-by-night operation. BrainStorm is working with the nation's thought leaders in ALS and this inspires confidence in the story.
At nine months (end of study), NurOwn was shown to be safe and well tolerated. This was the primary endpoint of this study. In terms of efficacy, in the intent to treat (ITT) population, a higher percentage of NurOwn-treated patients were deemed to be responders compared to placebo, at all except one-time point studied out to 24 weeks (see below).
.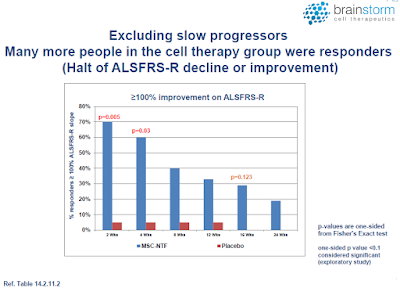 Moreover, it appears that the strongest therapeutic effect was achieved in those patients whose disease was progressing the fastest, a group that comprised approximately half of the subjects in the study (see below).


I find this extremely interesting from both a scientific and commercial standpoint because many physicians will make a determination the use of NurOwn based on the risk/reward for their patients. The observation that the sickest and most desperate patients appeared to have benefited the most should motivate physicians to use NurOwn. Most therapeutic products used to treat serious diseases have the opposite effect, healthier patients see a benefit but those deemed "too far gone" are relegated to palliative care.
The other interesting observation from the Phase 2 top-line data presentation (see the slide deck) was that there was some evidence for a more pronounced benefit taking place in the first four weeks. Statistically significant separation from the placebo was evident at multiple timeframes over the 24-week study, but the largest number of responders was seen earlier in the trial.


I've heard some investors question the utility of NurOwn because they mistakenly believe there is waning efficacy after the first months post-treatment. My response is that this criticism is premature, given that the study was designed to investigate the benefit of NurOwn after only a single dose. Pharmaceuticals for serious chronic diseases typically require multiple treatments in order to achieve a sustained benefit. Lipitor®, for example, the best-selling pharmaceutical product the world has ever known, requires daily dosing, and if patients stop, their cholesterol is likely to rebound. Humira® is the current best-selling drug in the world and it is typically dosed for six to eight months. Even Gilead's Harvoni®, a cure for HCV infection, takes eight to twelve weeks of daily dosing in order to achieve full efficacy.
It is illogical to assume that one shot of NurOwn is going to cure ALS. That's not they way new cancer drugs work and everyone believes Opdivo® is a breakthrough medicine. In fact, I think it is a very good sign that BrainStorm saw, not just a slowdown in disease progression, but patient improvement – yes, some patients slope did trend positive post-treatment. Of the various responder analyses conducted by the company, one of them looked for 100% improvement in slope post-treatment versus pre-treatment. This is essentially either disease stabilization or improvement – after only a single dose!
The Future Is Multi-Dose, IT Only
Management has stated that future clinical studies with NurOwn in patients with ALS will involve a multi-dose protocol. For the upcoming Phase 3 trial, subjects ALSFRS-R score will be recorded at baseline (month 0). Subjects will then receive infusions of cells at month 2, 4, and 6. The final endpoint will be the change in ALSFRS-R at month 8. The two subsequent follow-on injections on a bi-monthly basis should extend the therapeutic effect seen in the recently completed Phase 2 trial and provide a longer-lasting benefit to patients. This has the potential to do what no pharmaceutical company has been able to do to date, i.e. improve overall survival and turn ALS into a chronic disease, rather than the death sentence that it is for most patients today.
I have also had discussions with the company about the potential to eliminate the 24 IM injections. In November 2016, I spoke Merit E. Cudkowicz, MD, MSc. Dr. Cudkowicz is a Professor of Neurology at Harvard Medical School, Chief of Neurology at the Massachusetts General Hospital and Director of the ALS Multidisciplinary Clinic. Dr. Cudkowicz was one of the Principal Investigators from the Phase 2. I asked about the number of injections and the potential to "lighten that burden" on the patient. She responded that ongoing data analysis supports the notion that the efficacy is coming from the IT injection. This presents the opportunity to potentially eliminate the 24 IM injections altogether. This step would dramatically improve efficiency for the physician and tolerability for the patient. It also constitutes a 96% (24 of 25) reduction in dose, which is a huge cost saving!
Brainstorm's Strategy and Pathway Is Validated
There are a number of companies developing treatments for debilitating, degenerative, and/or fatal conditions such as ALS that can serve as a proxy for determining a proper valuation for BrainStorm. Similar to NurOwn, the results from these therapies show them to offer incremental improvements in outcome and/or they only work in a subset of patients. Two such companies are highlighted below.
– Sarepta Therapeutics

Sarepta Therapeutics (NASDAQ: SRPT) is a biotechnology company focused on developing RNA-targeting therapeutics for rare, infectious, and other diseases. The company recently gained approval for Exondys™ 51 (eteplirsen) as a treatment for Duchenne Muscular Dystrophy (DMD). DMD is a rare genetic disorder that results in progressive muscle degeneration and weakness, respiratory failure, and premature death (typically by the mid-20's). DMD is an X-linked recessive disorder that affects approximately 9,000 – 12,000 (mostly) boys in the U.S.
Eteplirsen is a synthetic antisense RNA molecule that corrects for mutations in the DMD gene that encodes for dystrophin, a protein involved in muscle movement. Eteplirsen specifically targets a mutation found in approximately 13% of DMD patients, thus the addressable market opportunity for Sarepta is approximately 1,300 – 1,500 patients.
Sarepta has performed pivotal Study 201 and its ongoing extension, Study 202, as part of the regulatory submission for approval of eteplirsen using the FDA's Accelerated Approval pathway. Study 201 was a 24-week double-blind, placebo-controlled study of eteplirsen in 12 ambulatory boys with DMD. Patients were dosed weekly with 30 mg/kg eteplirsen (n=4), 50 mg/kg eteplirsen (n=4), or placebo for 24-weeks, after which the four placebo patients rolled over to the open-label portion of the study (Study 202) to receive 30 mg/kg eteplirsen (n=2) or 50 mg/kg eteplirsen (n=2). The primary endpoint of Study 201 was dystrophin production at Weeks 12 and 24. Results showed that the 50 mg/kg cohort did not have significant dystrophin production at Week 12; however, the 30 mg/kg cohort did have significant dystrophin production at Week 24.
The primary functional endpoint of Study 202 was the comparison of week 48 six minute walk test (6MWT), which is a standard clinical outcome for testing DMD treatments that involves having patients walk a pre-set course for six minutes and allows for a global assessment of muscle function along with endurance as measured by cardiac and respiratory function. At 48 weeks, there was no difference in the 6MWT between eteplirsen- and placebo-treated patients. However, two of the eteplirsen-treated patients showed a rapid decline in 6MWT at the onset of the trial, and based on the data from Study 201 showing it takes 24 weeks to see significant dystrophin production, an exploratory analysis of those two patients removed showed a 67 m advantage in 6MWT in those receiving eteplirsen compared to placebo. This data served as the basis for continuing Study 202 for an extended period of time.
Since there was no placebo-controlled group for Study 202, Sarepta identified two external observational registries with longitudinal clinical outcome data from which to select patients to use as a comparator cohort. A total of 13 patients were selected for the external control cohort using key prognostic entry criteria for Study 201. Sarepta now has data out to four years, and as the following graphs show there is a statistically significant difference in 6MWT between eteplirsen-treated patients and the historical control group. Patients with a 0 for the 6MWT are no longer ambulatory and are confined to a wheelchair.


Sarepta gained approval for Exondys 51 in September 2016. The market value today is $2.0 billion.
– Bluebird Bio

Bluebird Bio (NASDAQ: BLUE) is a biotechnology company developing treatments based on the company's gene therapy and T cell-based immunotherapy platforms. The company is currently developing gene therapies for β-thalassemia, severe sickle-cell disease (SCD), and cerebral adrenoleukodystrophy (CALD). In addition, Bluebird is developing oncology treatments using both chimeric antigen receptor (CAR) and T-cell receptor (TCR) cell therapies.
The company's gene therapy platform consists of Lentiglobin, a treatment for both β-thalassemia and SCD, and Lenti-D, for the treatment of CALD. The technology involves extraction of a patient's hematopoietic stem cells (HSCs) followed by the ex vivo insertion of a functional β-globin gene (with a single codon variant to serve as a biomarker) for Lentiglobin or a functional ABCD1 protein for CALD. The transduced cells are then re-injected back into the patient following myeloablation.
Bluebird is currently conducting two clinical trials with Lentiglobin: 1) A Phase 1/2 clinical trial in France for patients with β-thalassemia and SCD (Study HGB-205); 2) A Phase 1/2 clinical trial in the U.S., Australia, and Thailand for SCD (Study HGB-206).
β-thalassemia is a serious, life-long disease with a number of potential complications. The severity of the disease is dependent upon the type of mutation found, with β0/β0 patients (those incapable of producing any functional hemoglobin) having the most severe disease that requires constant blood transfusions. Data from Study HGB-205 showed that β-thalassemia patients who were not β0/β0 responded best to treatment with Lentiglobin. The non-β0/β0 patients were transfusion-free following treatment with Lentiglobin, while the β0/β0 patients continued to require transfusions, but with a reduction in the transfusion volume.
Bluebird has indicated that it will seek approval in the U.S. for non-β0/β0 patients through a Phase 3 program (Studies HGB-207 and HGB-208). The company may seek conditional approval in the E.U. based on data from the HGB-204 and HGB-205 studies; however, the strategy for gaining approval to treat β0/β0 patients in the E.U. has not been determined. The market value is $2.5 billion.

How Sarepta and Bluebird Compare to BrainStorm

 – The similarities between NurOwn and eteplirsen include:
1) Neither NurOwn nor Exondys 51 is a cure for the conditions they are treating, but do show the potential to be disease modifying. This is in contrast to the vast majority of pharmaceutical products for degenerative or fatal diseases on the market today are palliative at best.
2) NurOwn treatment appears to be most effective in a subset of patients; those whose disease is progressing fastest. Eteplirsen also appears to be most effective in a subset of patients; those who are not as far along in the disease.
3) Both NurOwn and eteplirsen appear to slow the progression of disease (decrease in the slope of the curve), which could potentially lead to an increased quality of life and perhaps an increased lifespan.
4) Both NurOwn and eteplirsen have been benchmarked against historic controls patients to gauge safety and efficacy; although, Brainstorm's most recent Phase 2 trial did have a placebo control arm.
While the two treatments show many similarities clinically, the investment community views the companies developing each of the treatments very differently. Sarepta currently has a market cap of $2 billion while BrainStorm's market cap is $50 million. Sarepta's valuation is 40x that of BrainStorm's! Exondys 51 is approved, thus it isn't surprising that Sarepta is valued higher than BrainStorm; however, the magnitude of the difference is what is so striking, particularly given the fact that the market opportunity for NurOwn is twice large as for Exondys 51:

– BrainStorm and Bluebird are similar in that:
1) Both treatments being developed by each company involve extraction of stem cells from a patient, manipulation of those stem cells to produce the desired effect, and re-introduction of those cells back into the patient.
2) Both NurOwn and Lentiglobin appear to be most effective in a subset of the target patient population.
3) Both NurOwn and Lentiglobin are ready to be tested in Phase 3 clinical studies.
Since Bluebird is also developing oncology therapies (the first of which is in a Phase 1 trial) and gene therapies for multiple indications, a direct comparison between BrainStorm and Bluebird is more difficult. Bluebird has multiple shots on goal, including β-thal, SCD, and CALD. The TCR program is also exciting. Brainstorm believes that NurOwn has utility in MS, PD, and potential autism, but these programs have yet to begin. However, once again there is an enormous difference in valuation between these two companies, with Bluebird currently valued at $2.5 billion compared to BrainStorm's $50 million. Should Bluebird really be worth 50x Brainstorm?
The comparison to both Sarepta and Bluebird is not done to say either of those companies is overvalued, but that BrainStorm is vastly undervalued. In addition, once investors realize the potential for NurOwn, it shows the type of valuation that BrainStorm could command in the future.
Intellectual Property
On October 31, 2016, BrainStorm announced that the U.S. Patent and Trademark Office granted to the company U.S. Patent No. 9,474,787 titled "Mesenchymal Stem Cells for the Treatment of CNS Diseases". The allowed claims cover mesenchymal stem cells that secrete neurotrophic factors, including brain-derived neurotrophic factor (BDNF) and glial derived neurotrophic factor (GDNF), along with pharmaceutical compositions comprising those factors.
Stem Cells Are Hot Again & Brainstorm Is A Major Player
BrainStorm's NurOwn therapy is now the leading clinical-stage stem cell candidate for treating ALS. Key competitor, Neuralstem (NASDAQ: CUR), recently announced a reorganization to focus on the development of NSI-189 for depression. The company is examining business development opportunities before continuing development of NSI-566, a stem cell treatment for ALS. Another CNS-focused cell therapy company, StemCells, Inc. (NASDAQ: STEM) has recently initiated a wind down of operations.
Yet, despite the failure of CUR and STEM, investor interest in the stem cell industry is heating up. In December 2016, Bayer AG and Versant Ventures formed a joint venture called BlueRock Therapeutics. BlueRock was seeded with $225 million in new capital. The new company quickly sublicensed technologies relate to the production of cardiac stem cells for the treatment of heart disease from VistaStem Therapeutics, a wholly-owned subsidiary of Vistagen Therapeutics. It's incredible to think that Bayer and Versant just put down 4x the value of Brainstrom into a brand new start-up company; and again, Brainstorm is Phase 3 ready with NurOwn!
Sweeping legislative changes are also making cell therapy plays more attractive. In December 2016, President Obama signed into law the 21st Century Cures Act. The Cures Act is designed to expand medical research and speed up approval of new drugs and medical devices. The law directs the U.S. FDA to provide faster and more flexible approval for important breakthrough medicines like cell therapy. it creates a new pathway designation called a regenerative advanced therapy, or "RAT". Once a company is granted RAT, they become automatically eligible for several existing types of special treatment, including Accelerated Approval. It's a dramatic cost and time-saving designation, and industry experts are starting to take notice.
The language in the Cures Act mimics, to a lesser extent, legislation put into law in Japan in late 2014 that allows for biopharma companies to gain conditional approval and launch a cell therapy product into the market – with reimbursement – providing the company has demonstrated sufficient safety and some evidence of efficacy. The sponsor then has seven years during which time the sponsor must obtain full market approval through a biologics license application (BLA) or the Japanese equivalent thereof. Both the U.S. Cures Act and new Japanese law are a potential boon for the regenerative medicine industry and players like Brainstorm Cell Therapeutics.
Conclusion
Currently, there is no treatment in development for ALS that could potentially cure the disease. While a cure could come one day, for now, effective treatments for ALS will consist of incremental improvements in clinical outcome, which will most likely only be effective in a subset of patients. However, as mentioned earlier, drugs that target terminal diseases can be commercially successful when offering only a limited clinical enhancement over the current standard of care – see Nexavar® as an example. The drug gained approval for extending overall survival and refractory hepatocellular carcinoma patients by only a few weeks, and today does over $1 billion in global sales.
Sarepta's Exondys 51 is another example. Data show that the drug, while not a cure, slows the progression of DMD compared to an untreated historical control group. That data has propelled Sarepta to a $2.0 billion valuation.
NurOwn appears as though it is most effective in a subset of patients with ALS. Treatments that are only effective in a portion of a patient population can be very successful. Humira® (adalimumab) is the best-selling drug in the world, with 2015 worldwide revenues of $14 billion. However, for rheumatoid arthritis and psoriasis, Humira is only effective for 50% (ACR-20 and 75% (PASI-75) of patients, respectively. Even so, physicians still prescribe Humira at a very high rate, even with so many other available treatment options. There are no truly effective treatment options for patients with ALS. NurOwn would be the first if approved.
BrainStorm's next step in the development of NurOwn is to initiate a Phase 3 clinical study in the U.S. The company has current funding to begin the study and an excellent track record of bringing in non-dilutive grants to keep shareholder dilution to a minimum. Investor concerns over an imminent massive dilutive offering are misguided. BrainStorm will likely need cash over the next year, as will the majority of small-cap biopharma companies, but the company looks to have an adequate runway and some flexibility today.
The similarities in strategy and data between Brainstorm, Bluebird and Sarepta are striking. The discrepancies in valuation present an opportunity. The science is outstanding, and strategy makes sense, and interest is returning to the industry as evidenced by the BlueRock transaction. Finally, sweeping legislative changes in the U.S. and Japan are making cell therapy stocks "hot" again. As such, BrainStorm is certainly a company that investors might want to consider adding to their (small-cap biopharma) portfolio.