Oasmia Pharmaceuticals AB (NASDAQ: OASM) is a Swedish-based biopharmaceutical company developing next-generation novel formulations of well-established chemotherapeutic agents through its proprietary nanotechnology platform. Compared to existing cytostatic agents, Oasmia's improved formulations offer reduced side-effects, potentially leading to expanded therapeutic use, as well as reduced infusion time, better pharmacologic profile, and superior bioavailability.
The lead product candidate is Paclical®, a nanoparticle improved formulation of the chemotherapeutic agent, paclitaxel. Paclical® received market authorization in Russia and the Commonwealth of Independent States (CIS) in April 2015. The product has been granted Orphan Drug designation in both the United States and the European Union for the treatment of ovarian cancer. Oasmia has successfully completed a Phase 3 study with Paclical® and presented the top-line data at the American Society of Clinical Oncology (ASCO) meeting in May 2015. The company has also successfully completed a head-to-head pharmacokinetic study comparing Paclical® to Abraxane®, a nanoparticle albumin-bound (nab) paclitaxel formulation that generated approximately $1.15 billion in global sales in 2015. A marketing authorization application (MAA) was recently filed to the European Medicines Agency (EMA) seeking approval for Apealea®, the European trade name for Paclical®, in Europe in February 2016. The U.S. new drug application (NDA) is currently being prepared under the 505(b)(2) pathway, with an anticipated submission to the U.S. FDA during the second half of 2016.
Oasmia is an interesting company. Beyond Paclical®, management is working on several additional nanoparticle formulations of well-established chemotherapeutic agents, including doxorubicin and docetaxel. Celgene, through its $2.9 billion acquisition of Abraxis in June 2010, has clearly validated the market for improved formulations of established chemotherapeutic agents. Abraxane® has been a huge success for Celgene, having generated $967 million in sales in 2015, up 14% year-over-year. The product is sold by Otsuka Pharmaceutical in Japan and on a global basis generated over $1.15 billion in sales last year. Abraxane® has over 50% of the total paclitaxel market thanks to its improved tolerability and reduced infusion time compared to generic paclitaxel.
Oasmia's Paclical® not only builds upon the success of Abraxane®, but potentially offers improvements in dosing, reduced hypersensitivity, expanded labeling, and the potential for non-human use. For example, Oasmia has received Conditional Approval for Paccal-Vet® from the U.S. FDA for the veterinary oncology market. Paccal-Vet® is the first paclitaxel formulation for veterinary use in the U.S. In fact, it is the first ever chemotherapeutic agent approved by the FDA for use in dogs, as paclitaxel is generally considered too toxic in the generic formulation for veterinary use. The product received conditional approval for the treatment of canine squamous cell carcinoma and mammary carcinoma in February 2014. The veterinary oncology market is an enormous opportunity for Oasmia, and due to the use of human albumin, it is an area where Abraxane® cannot compete. Similar to the strategy with human use, Oasmia is working on additional nanoparticle formulations of commonly used anticancer agents for use by veterinary oncologists.
Below is an introduction to Oasmia, with an overview of the patented nanoparticle technology and a summary of the company's plans and the opportunity with Paclical®, as well as the rest of the human and veterinary pipeline of nanoparticle chemotherapeutic agents. Oasmia recently listed American Depositary Shares (ADS) on the NASDAQ. The company has a market value of approximately $105 million and thanks to the IPO in October 2015.
Quick Background On Paclitaxel
Paclitaxel is an anti-cancer "antineoplastic" or "cytotoxic" agent (commonly referred to as chemotherapy) approved around the world and used primarily for the treatment of breast, ovarian, lung, bladder, prostate, melanoma, esophageal, as well as other types of solid tumor cancers. It has also been used in Kaposi's sarcoma. The product was first discovered in 1962, in part through a U.S. National Cancer Institute funded program to screen potential cytotoxic agents for the treatment of various cancers. The drug is isolated from the bark of the Pacific yew (Taxus brevifolia) and was developed and sold commercially by Bristol-Myers under the brand name Taxol® starting in 1992.
Paclitaxel is a cytoskeletal drug that targets tubulin. Paclitaxel-treated cells have defects in mitotic spindle assembly, chromosome segregation, and cell division. Chromosomes are unable to achieve a metaphase spindle configuration, which blocks progression of mitosis and ultimately leads to apoptosis or reversion to the G-phase of the cell cycle without cell division. This effect is particularly detrimental in rapidly-diving solid tumor cells.
Use of paclitaxel is limited by several factors. Firstly, the drug is insoluble in water, and thus very difficult to administer. To overcome the problem of delivery, paclitaxel is injected intravenously in a solution of polyethoxylated castor oil (Cremaphor EL). Cremaphor EL is a formulation vehicle used for various poorly-water soluble drugs. Unfortunately, Cremaphor EL is not biologically inert but exerts a range of biological effects, some of which have important clinical implications (1). Its use has been associated with severe anaphylactic hypersensitivity reactions, hyperlipidemia, abnormal lipoprotein patterns, aggregation of erythrocytes, and peripheral neuropathy. In addition, it has been shown that Cremaphor EL modifies the toxicity profile of paclitaxel given concomitantly by mechanisms other than kinetic interference (2).
It is generally well-accepted that the majority of patients will experience hypersensitivity and allergic reactions to Cremaphor EL (3). To prevent these reactions, patients are pre-treated with high doses of corticosteroids. Despite pre-treatment, upwards of 40-50% of patients will still experience allergic reactions, including grade 2 or 3 neurotoxicity. This results in sub-optimal dosing, as the dose of paclitaxel that oncologists are able to administer is severely limited to that which can be dissolved in a non-toxic dose of Cremaphor EL solution. Nevertheless, Bristol-Myers achieved peak sales of Taxol® in 2000 of $1.6 billion.
This was status quo until the approval of Abraxane® in January 2005. Abraxane® is a nanoparticle albumin-bound (nab) formulation of paclitaxel developed by Abraxis BioScience and now sold primarily around the world by biotech behemoth Celgene. Celgene acquired Abraxis in June 2010 for $2.9 billion. Sales of Abraxane® at Celgene were $967 million, up 14% from 2014. About two-thirds of the sales are coming from the U.S., where Abraxane® controls 50-60% of the total paclitaxel market.
Abraxane® is approved for the treatment of metastatic breast cancer (in 2005), locally advanced or metastatic non-small cell lung cancer (in 2012), and metastatic adenocarcinoma of the pancreas (in 2013). Clinical studies with Abraxane® demonstrated modest improvement in hypersensitivity reactions and musculoskeletal disorders compared to Taxol®. The improved tolerability profile of Abraxane® vs. Taxol® has led to expansion of the maximum dose to 260 mg/m2 vs. 175 mg/m2 and a reduction of the necessary infusion time to approximately one hour versus several hours for Taxol® and generic paclitaxel. Patients on Abraxane® also avoid the need for pre-treatment with high dose corticosteroids.
Clinical data with Abraxane® compared to generic paclitaxel in metastatic breast cancer shows mixed results, with some studies showing the superiority of Abraxane® over the generic formulation of the drug (4) while others report either no difference or the superiority of the generic (5). Much of the current growth for Abraxane® is coming from increased use in the recently approved pancreatic cancer indication (6, 7). Nevertheless, whatever the reason for the strong trajectory in Abraxane® sales, the improved tolerability and higher dosing, the potentially superior data, or reduced infusion time, it is clear that the acquisition of Abraxis by Celgene has been a success given that Abraxane® is now a blockbuster drug. Sales were up 14% in 2015 and analyst estimates according to Capital-IQ have the drug posting sales of $1.8 billion by 2020.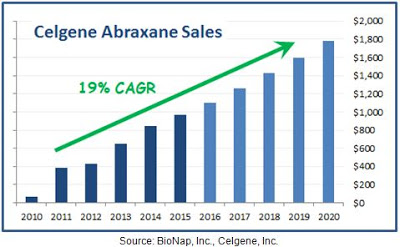 Oasmia's Patent XR-17 Technology
As noted above, Abraxane® uses human albumin as the delivery vehicle for paclitaxel. Albumin has the benefit of solubilizing the drug and facilitating uptake into cells by utilizing the albumin transport pathway. However, because albumin is a large protein, immunological issues can arise from paclitaxel interacting with albumin (8). Additionally, binding of paclitaxel to albumin impacts protein structure and influences considerably albumin binding of other molecules like warfarin, heme, or bilirubin. Finally, Abraxane® cannot be used for veterinary use because of the potential immune reaction in dogs and cats to human albumin (9).
Oasmia is pioneering a new nanotechnology approach to solubilizing hydrophobic active pharmaceutical ingredients (API) like paclitaxel through the use of a novel and proprietary technology called XR-17. XR-17 utilizes a Vitamin A derivate that contains a hydrophilic, polar head and hydrophobic, non-polar chain. Quite simply, one end of the molecule is water soluble and the other is fat soluble. The construct of the XR-17 molecule (below) facilitates the formation of micelles (spheres) where the fat-soluble ends fall inside the sphere and the water-soluble components are directed outwards. Accordingly, the fat-soluble ends are "protected" from water and only released when the sphere is dissolved.
XR-17 is a clinically and commercially validated technology designed to improve solubility, facilitate administration, enhance the pharmacological profile and bioavailability, and allow for dual encapsulation of water-soluble and water-insoluble APIs in one nanoparticle. Clinical data to date show no hypersensitivity reactions to XR-17 and the residues are harmless once the micelles are dissolved in the bloodstream, leaving the body through urine. Additionally, this technique is not limited to one API; XR-17 can enclose several molecules in micelles simultaneously regardless of the molecules solubility in water. This allows, for example, for two cytostatic agents to be given in a single infusion, where this regimen would usually require two infusions.
For example, Oasmia is currently working on a dual chemotherapeutic agent, OAS-19, in preclinical trials. However, the most advanced candidate is Paclical®, an XR-17-paclitaxel formulation currently approved in Russia and the CIS, under regulatory review in Europe, and nearing an NDA filing in the U.S. Beyond Paclical®, Oasmia has two additional clinical stage candidates, Doxophos®, a XR-17-doxorubicin formulation and Docecal®, an XR-17-docetaxel formulation. Oasmia also has substantial research in the animal health area, with Paccal-Vet® and Doxophos-Vet®.
Nearing Approval With Paclical®
On June 16, 2014, Oasmia announced that the primary endpoint of its Phase 3 study (NCT00989131) with Paclical/Apealea® for the treatment of ovarian cancer had been met. The study was an open-label, randomized, multicenter study conducted in 789 patients with recurrent epithelian ovarian cancer conducted in Europe. Full results were presented at ASCO in May 2015. The primary endpoint was to demonstrate that Paclical® offered the same progression-free survival time to Taxol® (generic paclitaxel) when used in combination with carboplatin. The non-inferiority data are presented below and show slight numerical trends in favor of Paclical/Apealea® vs. Taxol® (paclitaxel).

Data on overall survival are still pending, but Oasmia has presented an interesting subset analysis following a protocol amendment that allowed for an increase in the frequency of CT scans following the end of the defined treatment period. Results show that the progression free survival rate (PFS) rate in this subset of patients was 12.2 months for Paclical® vs. 10.2 months for Taxol®. Even though the data on efficacy were not significantly different, PFS was numerically higher in the Paclical® group regardless of patient population and more frequent CTs showed the most pronounced differences. This type of data provides confidence that the pending overall survival data will, at a minimum, hit non-inferiority to Taxol®, with the potential to show Paclical® superiority.
Results of the Phase 3 study also demonstrated that Paclical/Apealea® can be administered without pre-treatment of high dose corticosteroids and at a significantly shorter infusion time. Oasmia believes this should result in cost savings to the infusion facility. Safety and tolerability data from the Phase 3 study show comparable side effects, with similar rates of nausea, vomiting, asthenia, neuropathy, and febrile neutropenia. The results of this Phase 3 study were used as the basis for the MAA filing to the EMA in February 2016. Management is also currently preparing the U.S. NDA filing via the 505(b)(2) pathway and hopes to submit the package to the FDA during the second half of 2016. As noted above, Paclical® is already approved in Russia and the CIS. The figure below provides a quick look at the current status of Paclical/Apealea® in the key markets around the globe.
Oasmia has also completed a head-to-head pharmacokinetic study with Paclical® versus Abraxane®, the results of which were released in November 2015. This cross-over design study enrolled 28 patients with a design to test the plasma concentrations of total and unbound paclitaxel following 260 mg/m2 of Paclical/Apealea® or Abraxane® over two cycles, three weeks apart. Results show nearly identical mean (±SD) total and unbound plasma paclitaxel following IV administration of both drugs in all patients.
Head-to-head data notwithstanding, it is important for investors to understand, Oasmia is not looking to compete directly with Abraxane®. Although it is clear that certain oncologists will prefer Paclical® over Abraxane® due to the potential for less immunogenicity and a potential lower sales price, the opportunity for Oasmia and its commercial partners is substantial simply because the entire global paclitaxel market is approximately $2.5 billion in size, and Abraxane® has only 50% market share. The other 50% share is still generic paclitaxel, which looks like low-hanging fruit for both Celgene and Oasmia. Plus, the initial regulatory filing in the EU and U.S. is in ovarian cancer, an indication for which Paclical/Apealea® has been granted Orphan Drug designation by both the FDA and EMA and Abraxane® is not approved. Oasmia also has a significant potential opportunity in the veterinary market, an area where Celgene will never play with Abraxane®.
It is also important for investors to understand, Swedish-based Oasmia is already moving forward with commercial partnerships for Paclical/Apealea®. For example, the company has entered into an agreement with Pharmasyntez for the commercialization of Paclical® in Russia and the CIS, as well as Ukraine, Georgia and Turkmenistan, and a separate agreement with Medison Pharma for the commercialization of Paclical® in Israel and Turkey. Investors may consider these small markets compared to Europe and the U.S., but between Turkey and Russia + CIS, the population is equal to that of the U.S. at roughly 325 million, and Paclical® is the first and only water soluble formulation of paclitaxel approved and reimbursed in these regions (Abraxane® is approved but not reimbursed).
I believe this effort also shows management's astute ability to form partnerships and monetize the asset for shareholders. For example, Oasmia has already received its first orders for Paclical® from Pharmasyntez in Russia following approval in 2015. Product shipped in December 2015 with an estimated end-user value of about $9 million, a nice initial purchase for Oasmia that demonstrated strong initial interest for Paclical® in Russia. Oasmia receives cost of goods plus a royalty on sales from Pharmasyntez. Furthermore, the company has entered into an agreement with Nippon Zenyaku Kogyo for the commercialization of Paccal-Vet® in Japan.
Oasmia's Market Opportunity
As noted above, Oasmia's initial indication for Paclical/Apealea® is epithelial ovarian cancer, which is the fifth leading cause of cancer death among American women, and an indication for which Abraxane® has no approval. There are clinical studies and case reports that indicate that Abraxane® is used off-label by oncologists to treat certain types of epithelial ovarian cancer, but this is difficult to track and predict what percent of the approximate $1.15 billion in global Abraxane® sales are coming from ovarian cancer use, as Celgene does not comment on off-label use of the drug. That being said, Taxol® was approved for use in ovarian cancer and there are numerous publications that support the use of paclitaxel in this indication (10, 11, 12).
Epithelial ovarian cancers account for about 85% to 90% of ovarian cancers and are the most aggressive and dangerous sub-type. According to the National Cancer Institute's Surveillance, Epidemiology, and End Results (SEER) program, in 2011, the most recent year for which data are available, there were over 185,000 women living with ovarian cancer in the U.S. The five-year survival rate for ovarian cancer is 45.6%, and it is estimated that 21,290 women will develop and 14,180 women will die from ovarian cancer in 2015 (13). In the EU, the five-year survival rate for ovarian cancer is 37.6% from 2000 to 2007 according to a study published in The Lancet (14). In 2012, there were 44,149 diagnosed cases of ovarian cancer in the EU, according to the European Cancer Observatory/International Agency for Research on Cancer, while 29,758 women died of ovarian cancer. The most common chemotherapy drugs used for the treatment for ovarian cancer include cisplatin or carboplatin, and paclitaxel or docetaxel, which are most often given in combination.
Paclical/Apealea® in epithelial ovarian cancer easily looks like a $300 million opportunity. I base that number of a modest 20% penetration with the drug into the generic paclitaxel market, assuming Paclical/Apealea® is priced at a slight discount across the board to Abraxane®. Upside to the Paclical/Apealea® sales number stems from follow-on indications. The second indication Oasmia plans to target is breast cancer. Breast cancer is by far the most frequent cancer among women, with the World Health Organization (WHO) estimating that 1.38 million women worldwide are diagnosed with breast cancer each year. Roughly 458,000 women worldwide die from the disease annually. Penetration in the breast cancer market can clearly triple or even quadruple the peak sales for Oasmia. Case in point, Abraxane® has been on the market for ten years and the trajectory shows little sign of slowing thanks to the recent approval in pancreatic cancer.
Although I suspect that Oasmia may choose to license Paclical® to a commercial partner in the U.S., based on conversations with management, the company believes it could successfully market and sell the product themselves, especially in select regions around Europe. Targeting breast cancer as the second indication is interesting because, if approved, Oasmia would have two indications for Paclical/Apealea® both targeting women. This makes an interesting niche for promotion. And if successful, the company only further strengthens the case for a potential take-out, which was exactly the Abraxis BioScience strategy with Abraxane® between 2005 and 2010 prior to the $2.9 billion buy-out by Celgene.
Beyond Paclical®, Oasmia is working on several additional candidates, including Doxophos® and Docecal®, XR-17 formulations of doxorubicin and docetaxel, respectively. Oasmia is planning to initiate two Phase 1 clinical studies on the indication metastatic breast cancer with both Doxophos® and Docecal® in the near future. The opportunities for these two candidates mirror the opportunity with Paclical/Apealea®, albeit with potentially less competition given that there is no "Abraxane-type product" on the market competing with generic doxorubicin or docetaxel.
Oasmia estimates the market for Doxophos® exceeds $600 million on a global basis. The company has already filed for approval of Doxophos® in Russia and expects to gain market authorization by the end of 2016. Oasmia views Russia and the CIS as important introductory markets for its products. The company was active at the 19th Annual Russian Cancer Congress in Moscow presenting data on both Paclical® and the rest of the clinical pipeline.
The market opportunity with Docecal® is significantly larger, perhaps even twice the size of paclitaxel. Sanofi's Taxotere® achieved peak sales of $2.8 billion in 2010, nearly twice the size of Bristol's Taxol®. Beyond use in breast and prostate cancer, Taxotere® also sees significant use in cancers not commonly treated with paclitaxel, including head and neck cancer and stomach cancer. As of today, this market is wide open.
Management is also working on a dual cytostatic agent to be delivered in one infusion. The unique properties of XR-17 make this combination possible, where multiple active substances can be bound in one micelle, even if the two substances differ in water solubility. Pre-clinical studies with OAS-19, the code name for the company's XR-17 dual cytostatic agent, have shown promising results. The above product candidates, along with Paccal-Vet® and Doxophos-Vet®, in total, Oasmia has five product candidates in clinical trials for the treatment of various cancers for both human and veterinary use. I intend to cover the veterinary market in greater detail in a separate article.
Conclusion
I became attracted to Oasmia Pharmaceuticals AB when I saw the NASDAQ IPO in October 2015, and was reminded of the story when I saw them ring the opening bell on the NASDAQ in January 2016. Oasmia has several things going for it that I like. Firstly, this is a proven business model validated by Celgene's $2.9 billion acquisition of Abraxis in 2010 and Sorrento's sale of Cynviloq®, a nanoparticle micellar paclitaxel solution to NantPharma for up to $1.3 billion in 2015. NantPharma is founded by Patrick Soon-Shiong, MD, the guy that started Abraxis BioSciences. Oasmia's market capitalization is only $105 million, and the company looks to be traveling down the same path as Abraxis.
Secondly, I like that there seems to be very low clinical risk. Based on the pharmacokinetic data (see below), Paclical® offers nearly identical mean plasma concentration of paclitaxel after identical doses over three hours.
Paclical® is paclitaxel, simply with a better delivery formulation. This affords the company the ability to file the NDA via the 505(b)(2) pathway, expediting the package given that Oasmia can rely on the establish profile of Taxol® and all the work conducted by Bristol-Myers to gain approval for the reference drug back in 1992. The Phase 3 data presented at ASCO shows, at worst, non-inferiority to Taxol®, with the potential to show an improvement in overall survival once this data is presented later in 2016. The clinical risk, at least with Paclical®, has been mitigated; and the clinical risk with Doxophos® and Docecal® looks equally as low.
Thirdly, I like the fact that Paclical® is already on the market and generating revenues in Russia. Yes, the Russian pharmaceutical market is not nearly the size of the U.S. or European market, but the approval of Paclical® in Russia shows that Oasmia management can execute by getting its drugs approved and striking a commercial partnership to monetize the asset. The EU filing is under review and the U.S. filing is scheduled for later in 2016 after the overall survival data from the completed Phase 3 trial is presented. Fourthly, I like the potential expansion of the pipeline, both with new indications for Paclical® and with Doxophos® and Docecal®. Oasmia clearly has a strategy in place to create value for shareholders.
Finally, I like the fact that the company has an animal health division with a U.S. FDA approved product in Paccal-Vet®. According to the American Pet Products Association (APPA), between the U.S. and Europe, there are 143 million dogs and 160 million cats registered by pet owners in these regions. An astonishing 78% of these animals take prescription medication! It's a $30 billion market between the U.S. and EU. According to the Center for Cancer Research and CanineCancer.com, approximately six million dogs in the U.S. are diagnosed with cancer each year, of which approximately one-third have cutaneous, or skin, cancers. There have been no nanoparticle formulations of injectable chemotherapeutic agents formulated specifically for dogs or cats before Paccal-Vet®.
These positive attributes, along with what looks like a low market valuation given the potential for Oasmia to follow a similar path to Abraxis, makes the company one investors should put squarely on their radar.