Company Obtains Funding For Initiation Of Phase I/II Clinical Trial
Last week, at the American Association for Cancer Research (AACR) annual meeting, scientists from BriaCell Therapeutics Corp. (TSXV: BCT) (OTC: BCTXF) presented research on the molecular profile of BriaVax™, the company's proprietary whole tumor cell vaccine. The findings (AACR #2369) are suggestive of the BriaVax™ mechanism of action and identify a gene signature potentially predictive of patient response to the vaccine. BriaCell is currently preparing to initiate a Phase I/II study with BriaVax™ in the third quarter of 2016. The company is also working on a companion diagnostic based on the identified biomarkers aimed at prospectively identifying patients likely to benefit from BriaVax™. Below is a review of the poster and the interesting biomarker data presented at AACR.
BriaVax™ – Multiple Mechanisms of Action
Following the successful completion of a small (n=4) Phase I study (Wiseman & Kharazi, 2006), scientists at BriaCell, intrigued by the excellent response of one patient, conducted a molecular analysis of both the BriaVax™ cell line and blood cells obtained from patients, including the special clinical responder (patient #A002). This analysis informed the company about the hypothetical BriaVax™ mechanism of action and facilitates the development of a diagnostic for patient selection and, potentially, monitoring during human clinical trials.
Quick Background: Patient #A002 was a 58-year old postmenopausal woman with infiltrating ductal carcinoma of the right breast with right axillary adenopathy. Histochemistry studies reported estrogen positive / progesterone weak; HER-2/neu histochemistry weak, fluorescent in situ hybridization (FISH) negative. During the aforementioned Phase I study, this patient responded to BriaVax™ with complete remission of a measurable lung lesion and near complete remission of multiple breast lesions after only six inoculations (5 months; completion of protocol). However, thereafter, the patient relapsed. BriaCell then approached the U.S. FDA about compassionate use of the vaccine. Upon subsequent retreatment (three additional rounds of BriaVax™), the patient demonstrated prompt tumor regression.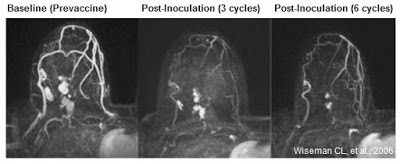 To conduct the biomarker analysis, BriaVax™ gene expression profiles were obtained through Illumina BeadArray and NanoString nCounter technologies and compared to gene expression data sets publically available through the Gene Expression Omnibus (GEO; National Center for Biotechnology Information) portal. Results show that BriaVax™ expresses a gene signature consistent with a mechanism of action involving not only the activation of cytotoxic T cells but also the induction of a humoral response.
Specifically, BriaVax™ expresses complete sets of genes predicting presence of both MHC class I (beta2-microglobulin, HLA-A, HLA-B) and class II (HLA-DRA, -DRB3, -DMA, -DMB) complexes and presents with high transcript levels of CD83, CD74, and IL6, i.e., factors with established roles in T cell activation.
Importantly, both BriaVax™ and the uber-responder (#A002) carried HLA-A*11:01 and HLA-DRB3*02:02 alleles. The Phase 1 study enrolled three breast cancer patients and one patient with ovarian cancer.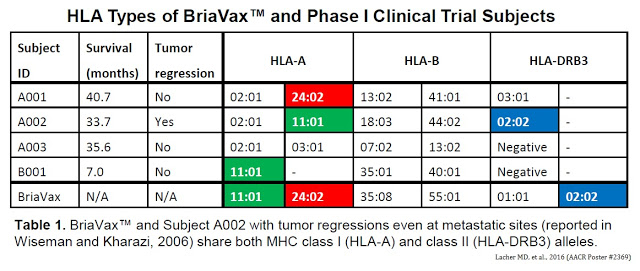 Furthermore, compared to normal human breast cells, BriaVax™ expresses several genes known to encode tumor-associated antigens, such as PRAME, a Cancer/Testis Antigen (CTA). These data show that BriaVax™ expresses genes known for their immune stimulatory roles and encodes identical MHC I and II alleles as patient #A002. The double match of HLA alleles between the patient #A002 and BriaVax™ is consistent with stringent MHC restriction.
These data lead scientists to the following hypotheses with respect to the proposed mechanism of action for BriaVax™:
1) BriaVax™ cells can act directly as allogeneic antigen-presenting cells (APCs).
2) Patient dendritic cells can cross-dress with BriaVax™ peptide-loaded MHCs.
3) Patient dendritic cells can cross-present BriaVax™ antigens on their MHC system.
In summary, tumor-specific T cells may be activated via mechanisms including direct antigen presentation by BriaVax™, cross-presentation, and/or cross-dressing. Additionally, secretion of IL-6 and GM-CSF by BriaVax™ may provide additional immune stimulation. The presence of Class I and Class II HLA alleles is consistent with the development of both cell-mediated and humoral immune responses. In the simplest terms, BriaVax™ looks to be acting as antigen-presenting cells and variation in major histocompatibility complex (MHC1 and MHC2) proteins might play a role in the therapeutic effect. As such, a cancer patient with a complementary gene expression signature (including expression of tumor-associated antigens in the tumor(s) that are co-expressed in BriaVax™) would potentially have a robust clinical response to BriaVax™.
Funding Secured For Phase I/II Clinical Trial
On April 22, 2016, BriaCell Therapeutics entered into a subscription agreement with a "leading U.S. biotechnology fund" for an investment of CAD $650,000. The company issued the investor approximately 3.42 million shares of common stock (TSXV: BCT) at CAD $0.19 per share. The investor also received 3.42 million warrants exercisable at any time over the next five years at CAD $0.30 per share. Management plans to use these proceeds to initiate a Phase 1/2 study with BriaVax™ in the third quarter 2016.
The trial is expected to enroll up to 24 late-stage cancer patients, mostly with metastatic breast cancer, although some patients with late-stage lung or ovarian cancer may also enroll in the study. I expect enrollment to take place at several university hospitals in the U.S. Management is currently working to finalize the protocol and expects to provide an update on the final design in the coming weeks; however, my guess is that the first portion of the trial will enroll 8-10 patients with an interim safety and efficacy read-out ahead of expansion to the Phase 2 portion.
BriaCell is also working to finalize an agreement with a contract research organization (CRO) to conduct the planned trial. The company began engaging with various CRO's when the FDA cleared the U.S. investigational new drug (IND) application in November 2015. A final CRO selection announcement is imminent. Additionally, the company also reported that manufacturing of BriaVax™ is nearing completion at the company's partner, University of California Davis. UC Davis is manufacturing cGMP-compliant BriaVax™ for dosing patients during the upcoming Phase I/II trial.
I'm expecting enrollment to begin in July 2016. As noted above, the initial portion of the trial will likely involve enrollment of 8-10 patients with an interim analysis at 4-6 months. Based on what I have seen in the past, the Phase 1 portion of the trial will likely cost $0.5 million (best guess is $2 million for the full trial all-in), so the funding noted above looks sufficient to fund at least the first portion of the trial. With proof-of-concept 4-6 months later, additional funds should be relatively straightforward to secure – at likely significantly higher prices – thus allowing management to complete the entire program.
Conclusion
What I find most interesting about BriaVax™ is the potential for a potent targeted approach to immunotherapy. BriaVax™ is interesting because the administration of a genetically engineered whole tumor cell vaccine has the potential to present multiple tumor-specific antigens to the immune system, stimulating dendritic cells and inducing a humoral response. The biomarker and gene expression data presented above significantly improves the likelihood of response based on the double matching of HLA alleles. BriaCell is working on a companion diagnostic, BriaDx™, to prospectively identify patients most likely to respond to BriaVax™ and, potentially, as a way to monitor patients response during clinical studies.
BriaCell Therapeutics remains one of my favorite under-the-radar immuno-oncology names. Therapeutic cancer vaccines have a lamentable history, but the science has come a long way since the failures of Dendreon's Provenge®. BriaVax™ is an allogeneic whole cell vaccine, and thus not hampered by the immune masking or the logistical commercial nightmares of previous autologous approaches. Instead, BriaVax™ seems to offer the ideal immunotherapy – powerful enough to induce both a broad-scale innate and adaptive immune reaction, targeted to reduce systemic side-effects, and selective based on genetic biomarkers to improve the odds of success. Plus, with a market capitalization (USD) of only $20 million, the upside looks tremendous if the Phase I/II trial succeeds.