Valeritas Holdings, Inc. (VLRX) is a commercial-stage medical device company focused on developing innovative technologies to improve the health and quality of life for people with Type 2 diabetes. The company's flagship product is called V-Go, and it is currently on the market in the U.S. V-Go is a small, wearable device designed for patients with Type-2 diabetes who require daily insulin to achieve and maintain their target blood glucose level. It is the first and only U.S. FDA and European EMA approved single-use, fully-disposable, mechanical delivery device for both basal (background) and bolus (mealtime) insulin.

V-Go is on the market and generating meaningful revenues for Valeritas. Though not yet profitable, I believe Valeritas is headed in the right direction. The company recently undertook a restructuring to streamline operations and improve profitability. With improved efficient and focused promotion, I believe Valeritas can achieve breakeven operations in the not too distant future. In the meantime, the company is reasonably valued based on the revenues today and has tremendous upside as V-Go ramps over the next few years.
Given the increased attention to the rising cost of healthcare and the aggressive pricing strategies of many specialty pharmaceutical companies, I thought it important to focus this article on how Valeritas is bucking the trend with V-Go. Yes, V-Go is a disposable product and does cost Type-2 diabetics an out-of-pocket expense each month; however, independent and company-sponsored data suggests that the overall cost to use V-Go is nearly identical to insulin pens and injectors. Additionally, because V-Go potentially delivers better long-term glycemic control, it may end up saving patients tens of thousands in chronic care costs.
Get To Know V-Go

V-Go is designed for patients with Type-2 diabetes who require daily insulin to achieve and maintain their target blood glucose goals. V-Go solves many of the challenges with conventional insulin therapy. For example, the product is easy to use and incredibly convenient. It is also small and discreet. The tiny device can be worn on the upper arm or along the waist underneath a shirt. Type-2 diabetics receive a constant flow of background insulin and can dose bolus insulin prior to a meal without having to carry around needles, pens, injectors, sterilizing wipes, or bottles of insulin. Importantly, users of the product report they can dose in public without anyone knowing.
This may sound trivial to the non-diabetic, but it is actually quite important. A study published in Diabetes Care in 2011 found that only 35-64% of Type-2 diabetics achieve A1C target of < 7% while on biphasic insulin (1). According to separate work published in the New England Journal of Medicine in 2009, 82% of Type-2 diabetics require supplemental prandial insulin on top of basal insulin to achieve adequate glycemic control (A1C goal of ≤ 7%) (2). Poor adherence to anti-diabetic medications may be the primary reason why so many diabetic patients fail to achieve recommended glycemic goals (3).
Poor adherence is a factor of a number of circumstances, one of which is the stigma of dosing in public. Data from U.S. Roper Diabetes Patient Market study, a survey of 2,104 diabetes patients in 2011 conducted by Gfk Custom Research LLC, found that 72% of insulin-using diabetics do not inject away from home (4). This may be because of the need to carry around supplies, or the lack of needles when necessary, or simply because patients do not want to advertise their disease in public. The stigma of diabetes or simply using a needle in public is powerful. It is clear that non-adherence, convenience, and discretion are major driving factors for insulin-dependent diabetics.
Frequency and complexity of dosing also play a major role in anti-diabetic therapy non-compliance. Work published in Clinical Therapeutics in 2001 (shown below) found that daily compliance rates for medications were inversely correlated to the number of doses per day (5). Mean dose-taking compliance for TID (3x daily) dosing was found to be only 65±16%. TID dosing is analogous to injecting insulin before each meal: breakfast, lunch, and dinner (6). Many diabetics inject bolus insulin four times a day (QID), adding the fourth shot before bedtime. Claxton AJ, et al. found this compliance rate to be only 51±20%.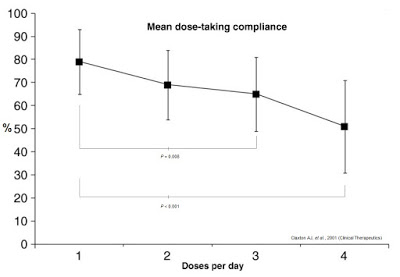 The V-Go single-use, disposable device is filled in the morning and adheres to the skin on the arm or above the waist. V-Go delivers background insulin at a preset constant rate throughout the entire day. This mimics the physiologic basal insulin produced by healthy individuals. For added control, V-Go can easily deliver on-demand insulin for mealtime coverage by simply clicking the bolus delivery button on the device. And as noted above, this can be done discreetly because there are no complex steps, audible alarms, or annoying beeping sounds.  The slide below shows the simple steps a patient follows with V-Go once filled at home.
Each disposable device provides a steady rate of insulin, with the potential for bolus injections during mealtime or a snack, with one daily application.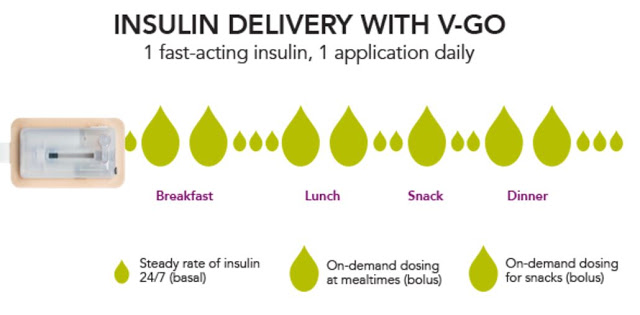 Clinical Data Supports V-Go Use
Valeritas has generated clinical data to prove that V-Go is effective in helping patients reduce A1C. The following slide from the Valeritas investor presentation highlights ten clinical studies that have taken place with V-Go showing the product helps patients reduce A1C by clinically meaningful levels (-0.5%). In fact, the average reduction in A1C from baseline in the ten clinical studies noted below was 1.9%. For reference, a paper published in the British Medical Journal by researchers out of Oxford University found that for every 1% reduction in A1C, the incidence of clinical complications from diabetes such as death, heart attack, microvascular complications, and peripheral vascular disease dropped by 21%, 14%, 37%, and 43% respectively (7).


Additionally, clinical data (peer-review and on file) shows that Type-2 diabetics can switch to V-Go from multiple daily injections (MDI) and get better A1c control with actually using less insulin.
V-Go delivers a significant benefit to both patients and payors. Data from a retrospective study of patients that transitioned to V-Go in a real-world clinical setting shows that patients on V-Go (n=56) saw a mean change in baseline A1C of -1.98% vs. a mean change of only -1.34% for patients that used multiple daily injections (n=60).
 
Cost Benefit of V-Go Should Really Drive Use
What investors need to understand is that the benefits of V-Go are not just conceptual. Sure, one could argue that simplicity, convenience, discretion, and compliance are all subjective measures of a product's superiority. However, Valeritas has presented data from the above retrospective study showing that V-Go patients used less insulin per day (56±17 units/day vs. 78±40 units/day, P<0.001) to achieve the better A1C control results, which resulted in a real direct cost savings of nearly $100 per month ($118.84 vs. $217.16) at the pharmacy (8).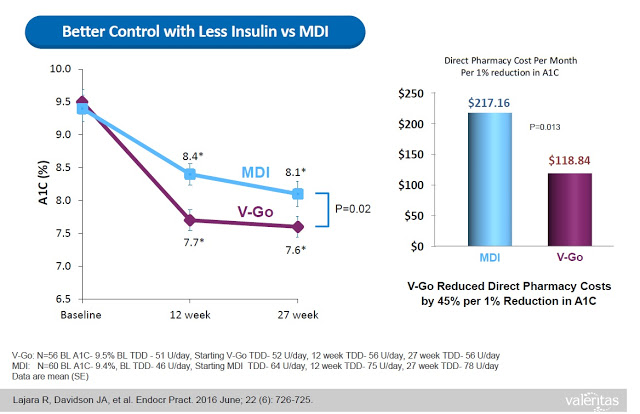 V-Go has a number of advantages for diabetes over pumps and controllers that are considered durable medical equipment (DME) by CMS and private insurance companies. For example, because V-Go is not considered a DME, the product is reimbursed at the local pharmacy with no prior approval necessary. In fact, according to management's most recent quarterly filing, 95% of the product is fulfilled at the pharmacy, with distribution through major wholesalers such as CardianHealth, McKesson, and AmerisourceBergen.
V-Go is available at local pharmacy and retail outlets such as Walgreens, RiteAid, CVS, Target, WalMart, Costco, and Safeway, with patients typically paying just a co-pay. Valeritas has been working since V-Go approval to improve patient access and coverage for V-Go. The company's most recent investor presentation notes 70% of commercial lives and 60% of the Medicare Part D lives have access to V-Go.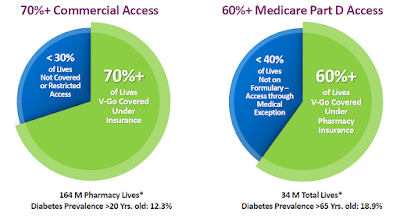 Having V-Go be cost-neutral to the patient is an important part of Valeritas commercial strategy. Cost itself is a major barrier to diabetes medication adherence. In fact, according to a data published in Diabetes Education in 2008, ability to pay for medications was the leading reason why diabetics do not adhere to dosing regimens (9); and, as noted above, poor adherence is what results in so many diabetics failing to achieve recommend A1C goals.
In this regard, V-Go is reimbursed the same way basal/bolus insulin pens like Lantus® and Humalog® are reimbursed, with the majority of patients simply paying a co-pay to refill the prescription each month. V-Go can be substituted for insulin pens like Lantus SoloStar® and Humalog Pen® for roughly the same out-of-pocket cost (company presentation).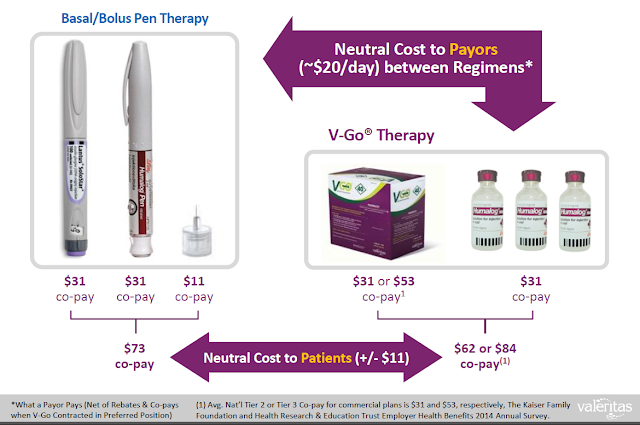 This type of real-world pharmacoeconomic data, coupled with the impressive clinical data from many of the studies noted above (i.e. SIMPLE, UMass, UPP, etc…) showing patients can both initiate and be switched to V-Go and see improvement in glycemic control, really drives home the potential market opportunity for Valeritas with the product.
According to the ADA, there are an estimated 30 million Americans with diabetes, an astonishing 9% of the U.S. population (10). Between 90 and 95% of these cases are Type-2 diabetes. The CDC estimates that roughly 30% of Type-2 diabetics, or around 8 million individuals, are on insulin therapy (11); and, less than 50% achieve recommended A1C levels of less than 7%. The total potential market opportunity is approximately $17 billion.
~5 million Americans x $3,420 / year for V-Go (WAC) = $17.1 Billion Opportunity
V-Go, It's Just Better
When all of the above are taking into consideration (i.e. the convenience, the discretion, the simplicity, the lower insulin costs, and the improved clinical effects), it is not surprising to see that Valeritas market research shows V-Go is a product that patients truly believe improves their quality of life. I think this is simply because V-Go is just a better solution for Type-2 diabetics.
 
Conclusion
Valeritas will report financial results for the third quarter ending September 30, 2016, in November 2016. Revenues for the full year 2016 are expected to be flat with 2015 at around $18 million. For the third quarter, I'm looking for around $5 million in revenue. The company recently restructured the sales force to focus on increased promotion to high-volume prescribers, so I'm expecting strong growth to return in 2017. The company is working to reduce its cost structure in an effort to achieve profitability in the coming quarters. I think V-Go represents a potential leap forward in how Type-2 diabetics manage their disease. The product obviously targets an enormous market opportunity.


In my next article, I plan to tackle the most important question for investors – What's Valeritas Worth? In the meantime, the current market value of Valeritas, which came public via a public offering in May 2016 is $75 million. Assuming the company reports revenues in 2016 of $20 million (essentially doubling the revenues from the Q1 + Q2), the current Price-to-Sales ratio of 3.75X in 2016 revenues looks cheap compared to the average "big med-tech company" (11). This essentially means investors can purchase Valeritas today and any upside to the revenue numbers over the next few quarters should result in outperformance of the stock.