Can-Fite Biopharma Ltd (NYSEMKT: CANF) is preparing to initiate a Phase 3 study with piclidenoson for the treatment of rheumatoid arthritis (RA) in the second quarter 2017. The Phase 3 study, called ACRobat, will investigate piclidenoson as a first line therapy and potential replacement for the current standard of care, methotrexate (MTX), in newly diagnosed subjects with RA. In June 2016, management met with the European Medicines Agency (EMA) to cleared the design protocol for the ACRobat trial.
MTX is the most common disease modifying anti-rheumatic drug used in patients with newly diagnosed RA that have progressed past NSAIDs or steroids. In Europe, an estimated 2.5 million individuals have RA. There are another 1.5 million estimated in the U.S. According to the Arthritis Foundation of America, 90% of these patients will take MTX at one point during their treatment. By targeting these patients, Can-Fite is going after an enormous market opportunity. Previous clinical work with piclidenoson in over 1,000 patients shows the drug to be safe and well-tolerated. Phase 2b clinical data shows superiority to MTX.
Below is a quick review of merits for piclidenoson and why this Phase 3 trial is important for investors in Can-Fite Biopharma.
RA Treatment Guidelines

In 2015, the American College of Rheumatology (ACR) published updated guidelines for the treatment of rheumatoid arthritis (1). Previous guidelines were only just published in 2012, but the development of new therapies and methodologies for the treatment of RA necessitated the update last year. The new guidelines can be seen in the treatment algorithm below; and, although quite complex, confirm the use of methotrexate (MTX) as the DMARD monotherapy drug of choice.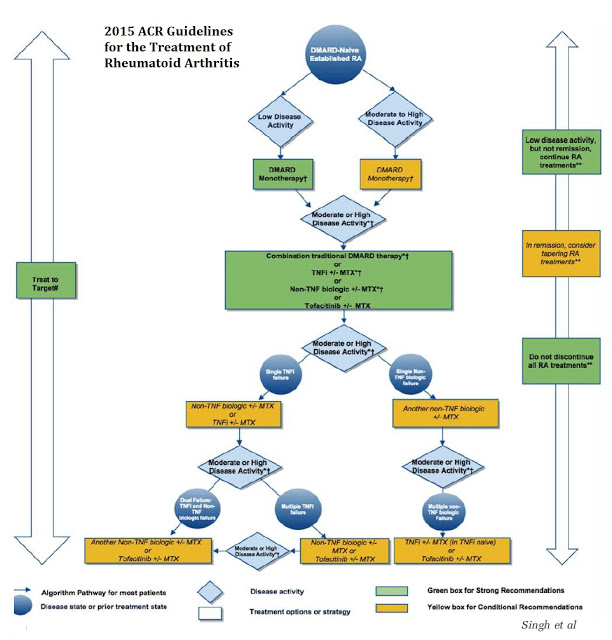 Investors certainly don't need to memorize the RA treatment algorithm above. I simply posted the flow-chart so that investors can see how early the ACR recommends the use of MTX. DMARD monotherapy, which the ACR defines as MTX use, is recommended for early RA patients whose disease activity is not under control by the use of short-term glucocorticoids or non-steroidal anti-inflammatory drugs (NSAIDs) such as ibuprofen or naproxen. In fact, it is not until a patient has an inadequate response to MTX before the ACR recommends the use of biologics such as Humira®, Enbrel®, or Remicade®, or other small molecules such as Orencia® or Xeljanz®.
An Enormous Target Market For Can-Fite
Humira®, Enbrel®, and Remicade® are all blockbuster drugs. According to company filings, these three drugs posted combined sales in excess of $34 billion at peak. That said, they are largely blockbusters because they cost so much money, upwards of $45,000 per year (2), not because they target the biggest chunk of the market. In fact, only about one-third of RA patients are on biologics (3). In contrast, the Arthritis Foundation of America estimates 90% of RA patients are on or have been on MTX at one point during their treatment (4). As such, the target market for piclidenoson is roughly three-times the size of the current biologic target market and estimated at over three million patients between the U.S. and EU Big-5.
Despite its wide use and modest efficacy, there are issues with methotrexate. A study by Weinblatt, 2013, found that nearly half (46%) of early RA patients that take MTX discontinue after five years either due to side effects or increasing disease activity (5). One-third of patients that take MTX becoming intolerant to the drug in less than a year (6, 7). The most common reasons for discontinuation include hepatic and gastrointestinal side effects, especially when used in combination with steroids and NSAIDs (8).
The Phase 3 ACRobat Study
Can-Fite's Phase 3 trial will be a randomized, double-blind, active and placebo-controlled format designed to establish non-inferiority of piclidenoson 1 mg and 2 mg versus MTX. Management has guided to the enrollment of approximately 500 patients in Europe, Canada, and the U.S. The primary endpoint will be low disease activity by Disease Activity Scores (DAS) at week 12. The trial will also evaluate key secondary endpoints including American College of Rheumatology (ACR) 20, 50, and 70 scores. To establish longer-term clinical efficacy and safety, the trial will continue for a period of 24 weeks. The schematic below shows the planned randomization.
Another important secondary endpoint will be the correlation between A3 adenosine receptor (A3AR) expression at baseline and patients' response to piclidenoson. As a reminder, Can-Fite has shown that A3AR is overexpressed in patients with inflammatory conditions such as RA and psoriasis (9). Accordingly, management believes that A3AR expression may serve as a target for pharmacological intervention or as a biomarker for disease activity and response to piclidenoson (10).
Data from the recent Phase 2b study (NCT01034306) showed that 70% of target RA patients had A3AR overexpression defined as a 1.5-fold increase over a predetermined normal population standard. There was a clear great response to piclidenoson in these patients compared to patients with normal levels of A3AR expression. Importantly, the previous study only tested 1 mg of piclidenoson with excellent tolerability. ACRobat will test 1 mg and 2 mg doses, potentially improving the response rate to the drug in this target population.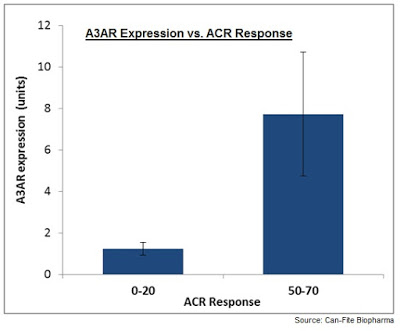 In a previous article on Can-Fite, I compared the efficacy seen in the Phase 2b study with published results from several blockbuster RA drugs, including Rituxan®, Orencia®, and Xeljanz®. These are patients that were inadequate responders to the anti-TNF biologics like Humira® and Enbrel®. I do not think investors understand how well piclidenoson looks in this population (11). Take for example the comparison of piclidenoson (yellow) to Bristol's Orencia® (purple). Piclidenoson looks superior on all three measures. Bristol sold nearly $1.9 billion worth of Orencia® in 2015.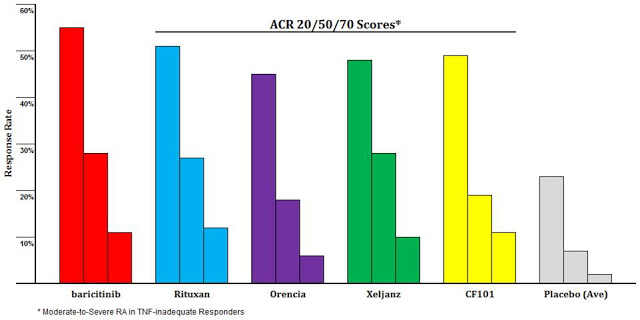 If ACRobat is successful, the label for piclidenoson would call for use ahead of all the aforementioned blockbuster drugs. Organizations like the ACR would certainly take notice and might again update the recommended treatment guidelines to include the use of piclidenoson as an alternative to MTX.
In this regard, I went back and looked at several large Phase 3 clinical trials for drugs such as baricitinib (Eli Lilly), etanercept (Amgen), infliximab (J&J), and tocilizumab (Genentech) tested in DMARD-naive moderate-to-severe RA patients. Each of these trials had a methotrexate control. I pooled the data and graphed below. This gives us an excellent idea of what to expect for the MTX arm in Can-Fite's upcoming Phase 3 program.
Based on Can-Fite's Phase 2b data with piclidenoson, specifically in the 70% subset of patients with high expression of A3AR, investors can now see why the EMA encouraged the company to run the trial with an MTX active comparator. The Phase 2b results show that piclidenoson offers superior ACR 20 and 50 response (analysis with ACR 70 not reported) to the pooled MTX data. To be successful, Can-Fite only needs to show piclidenoson is non-inferior to MTX in the upcoming Phase 3 program. This gives me confidence in the path forward and sets the stage for the potential use of piclidenoson as a replacement for the nearly 70-year-old first-line DMARD medication in MTX.
Conclusion
Can-Fite is hoping to initiate the Phase 3 ACRobat program with piclidenoson in the second quarter 2017. If successful, the company will need to conduct a confirmatory Phase 3 program in RA; however, I cannot fathom this second program not piquing the interest of big pharma. Companies like AbbVie, Pfizer, J&J, Amgen, Roche, Bristol, and Eli Lilly have made big bets in this space. To date, this has been one of the most profitable areas of drug development.
Management estimates the cost of the ACRobat program will be approximately $5 million. Investors should note that Can-Fite just raised this exact amount in January 2017 through a registered direct offering. Many investors have asked me why Can-Fite chose to raise $5 million last month. I think the answer is now obvious. Can-Fite also secured $0.5 million in December 2016 by licensing the rights to namodenoson for liver cancer to Chong Kun Dang Pharmaceuticals in South Korea. Although a small amount, these funds will help support operations while the recently closed registered direct pays for the direct cost of the Phase 3 trial. Can-Fite has already secured and paid for the manufacturing of piclidenoson for the trial.
Can-Fite's stock has certainly taken a hit over the past few months, most recently in January 2017 following the $5 million registered direct offering. Investors can now see what the company entered into that financing. With the Phase 3 ACRobat study about to get underway, the current market capitalization of only $31 million is looking perplexingly low. Can-Fite also plans to study piclidenoson in a Phase 3 study in psoriasis later this year. A second clinical-stage candidate, namodenson, is currently in a Phase 2 study for hepatocellular carcinoma (HCC) with data expected in the second half of 2017. A Phase 2 study with namodenoson in NAFLD/NASH is expected to begin in March 2017.